Shelagh Robinson - Resident Board Member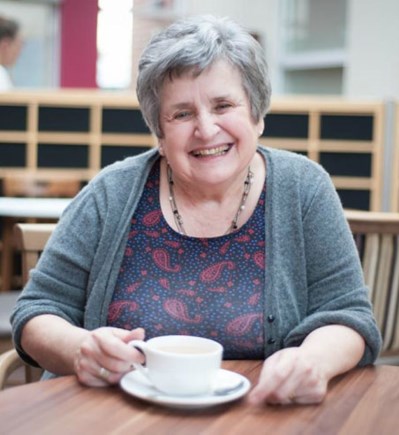 Shelagh Robinson is a dementia activist living at a Housing 21 Extra Care scheme in Crewe.
In Shelagh's working life, she had been a counsellor, a carer and also set up a women's refuge and so describes herself as 'lucky' in that she was able to spot some of the early signs of something not being quite right, as she was diagnosed with Alzheimer's disease in 2011.
After sharing one particularly bad healthcare experience on social media, Shelagh was approached by the Alzheimer's Society to become an ambassador, campaigning for the rights of people living with dementia.
Shelagh has spearheaded a campaign for better post diagnosis support for people living with dementia, appearing on BBC news and in national newspapers, a public speaker with her very own TEDx Talk as well as being a regular 'Dementia Diarist' with the aim of prompting dialogue and changing attitudes towards dementia.
A societal issue of what dementia looks like has been driven by the media with images which visualise the later stages of dementia. Shelagh brings a fresh outlook with her voice and activism, which as a result, encourages more people to visit their GP for earlier diagnosis, enabling then more invaluable care and support sooner to help them live more independently with greater quality of life. Early diagnosis also empowers people to make decisions about where they want to live in the future and what kind of care they want to receive, which of course, reduces distress and confusion and also prevents decisions being made at crisis point which often results in an inappropriate setting.