Deirdre LaBassiere
Governance and Assurance Manager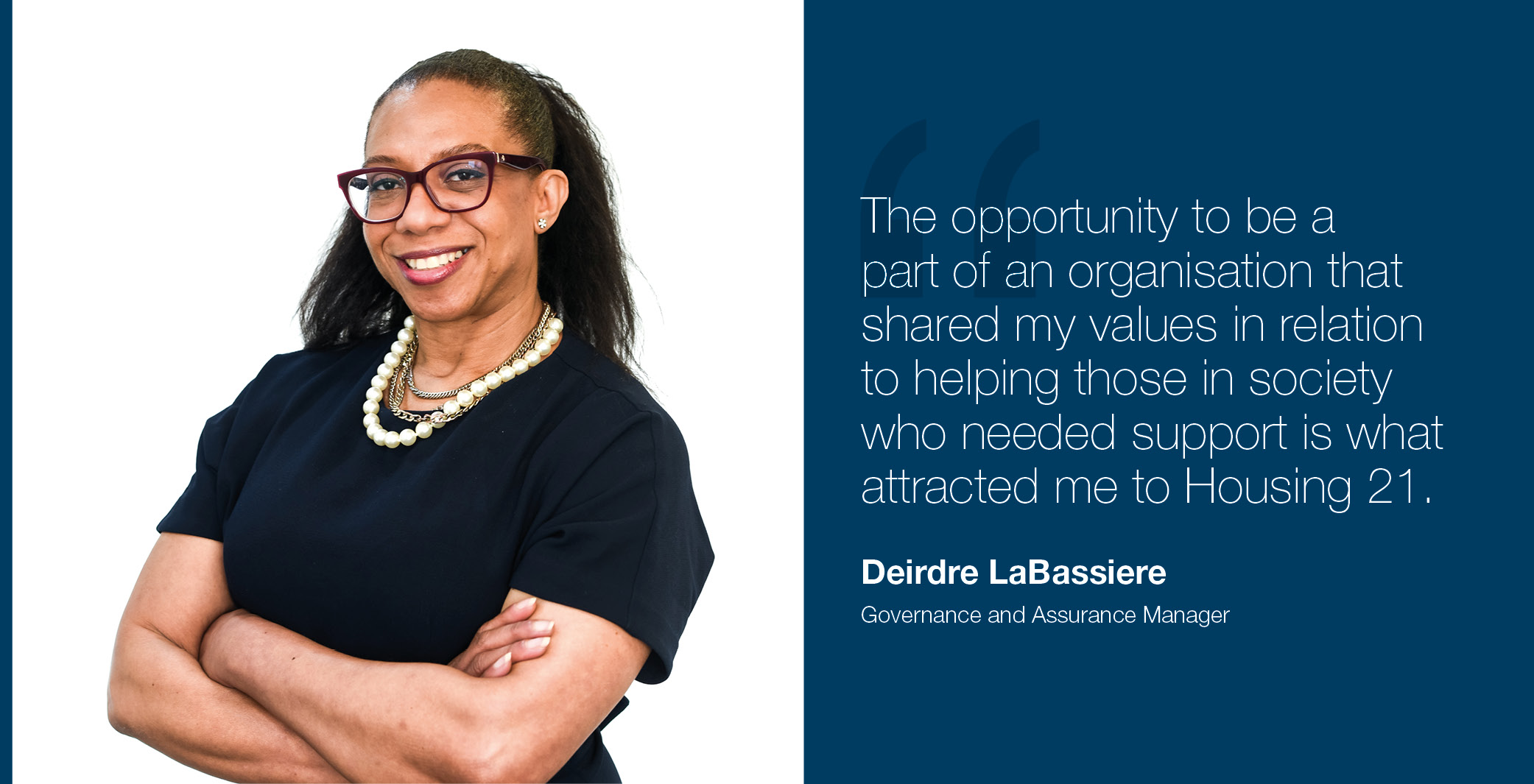 What were your first impressions of Housing 21?
My first impressions of Housing 21 was that it invests a lot of time and effort into its human resource and capital in order to deliver on its mission of providing retirement housing and extra-care for older people of modest means.  With everything that entails everyone plays a part. It was the opportunity to be a part of an organisation that shared my values in relation to helping those in society who needed support is what attracted me to Housing 21. As well as having the opportunity to use my skills to do so by advising and shaping the culture of Housing 21 in regard to a new and emerging area of regulation and law.
What has your Housing 21 journey involved so far?
I joined Housing 21 in 2017 as a Senior Information Officer and Data Protection Officer, I was in this post for one year. I enjoyed advising and supporting staff to understand the new regulation of the GDPR and enjoyed making it relatable to their work and embedding great data protection practices throughout the organisation.  I particularly enjoyed meeting staff throughout the country and have developed some very good relationships as a result. Following this, I was encouraged by the Director of Culture, Assurance and Performance to apply for the Governance and Assurance Manager role and I was fortunately successful. I am thrilled with the progress I have made at Housing 21.
What is the culture like at Housing 21?
Housing 21 is moving towards a clan culture with elements of collaboration, participation and mentoring with staff being encouraged, in certain circumstances, to be dynamic, entrepreneurial and innovative.
I am part of the Domestic Abuse Steering Group which is really close to my heart. I am honoured to be a part of the drive to tackle this societal problem for our staff and for our residents.
What would your advice be to someone thinking about joining Housing 21?
Always be authentic and be focused on deliverables remembering that you are a part of a whole that exists for the benefit of delivering an outstanding service to our residents.