A £10.6 million scheme which allows residents to live independently with the reassurance of an on-site care team, has celebrated its first few months in the community with a grand opening event.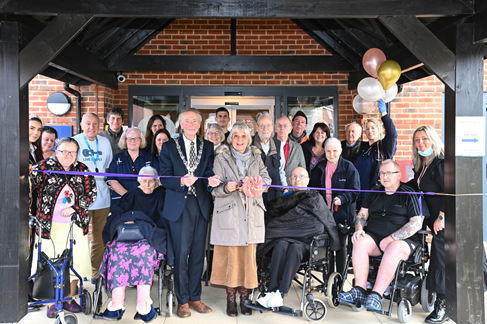 Image caption: Cllr Jim Brooks, Chairman of Arun District Council and Councillor Amanda Jupp, West Sussex County Council's Cabinet Member for Adults' Services, cutting the ribbon to officially open Monaveen, alongside residents and employees.
Monaveen in Eastergate is a purpose-built development offering 60 one- and two-bedroom apartments, to people over the age of 55.
The scheme has been delivered by Housing 21, a national leading provider of Retirement Living and Extra Care, in partnership with Arun District Council, West Sussex County Council and developer Highwood Group.
Lorraine Jenner, Regional Operations Manager at Housing 21, said: "We are delighted to officially open Monaveen and welcome residents as we build a community of like-minded individuals. Our Extra Care properties strike a unique balance as they allow residents the freedom to live independently in their own home, with the option to access on-site communal facilities and care support if and when required.
"The apartments are designed to a high-quality standard with all of the modern touches that allow residents to live comfortably in their own home, while the scheme itself has facilities including a communal lounge, hair salon and restaurant, as well as a guest apartment for visiting family and friends."
The apartments are available for rent or shared ownership to people over the age of 55 with a connection to the local area. The scheme has been built, developed and will be managed by Housing 21, which achieved 90% resident satisfaction from those living in its Extra Care schemes in its 2021 annual resident survey.
An on-site Housing and Care Manager is available to assist residents with any concerns or queries, including repairs, benefit claims or suggestions for events. The manager is supported by a care team which is based on site 24 hours a day, seven days a week, to assist with any planned or emergency care needs.
Cllr Jacky Pendleton, Chair of the Residential Services and Wellbeing committee said " Arun District Council are pleased to be involved with Monaveen. The provision of a residential setting offering quality accommodation and an environment that creates community is a great addition to the district. The facilities on site provide residents with the opportunity to benefit from the extra care available as well as retaining independence.
Amanda Jupp, West Sussex County Council's Cabinet Member for Adults' Services, said: "Supporting our residents to stay independent in later life is one of the key priorities for the County Council. The opening of Monaveen, which offers extra care services for older people, is a significant step towards fulfilling our commitment by investing in these services.
"Our ongoing partnership with Housing 21 and Arun District Council means new residents will be able to benefit from assistance when needed, while continuing to enjoy being part of their local community."
The scheme's on-site facilities, including the hair salon, communal lounge and restaurant, will be available for use by the local community. Couples and individuals who meet the eligibility criteria can apply, as can those with pets who are welcome at the scheme.
Planning and construction on the site was led by Highwood Group.
Steve Matthews, Managing Director at Highwood, said: "It's great to see the fruits of our labour come to life and residents enjoying their new home. This retirement and assisted living scheme was subject to a lengthy planning process and construction was initially halted by the impacts of the Covid pandemic during the first national lockdown. But thanks to the efforts of the project team, we were able to ensure the scheme was delivered safely and on time."