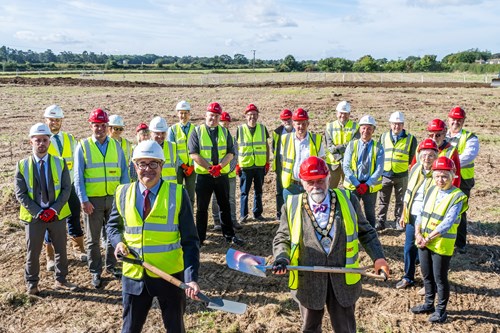 Pictured: Peter Smith, Construction Project Manager at Housing 21 and Rowland Warboys, Chairman of Mid Suffolk District Council with key partners from Mid Suffolk District Council, Osbornes, Thurston Parish Council, WWA, R G Carter and Thurston Relief in Need Charity.
A ground-breaking ceremony has taken place to celebrate the commencement of work at Housing 21's sixth Extra Care development in Suffolk.  
The ceremony was attended by representatives from Housing 21, Thurston Relief In Need Charity, Mid Suffolk District Council, Osbornes, West Waddy Archadia and Thurston Parish Council as well as R G Carter who have been contracted to build the scheme.
The Extra Care scheme, located on Heath Road, will provide much-needed one- and two-bedroom apartments and two- bedroom bungalows for older people with the assurance of on-site care for residents if and when they need it.  Residents will have the choice to rent or purchase their property through shared ownership.   
The development, in partnership with landowner Thurston Relief in Need Charity and with grant funding from Homes England, will address the shortage of specialist housing for older people identified in the Thurston Neighbourhood Development Plan. 
Peter Smith, Construction Project Manager at Housing 21, said: "We are excited to work with R G Carter to deliver this new Extra Care court in Suffolk and I am confident it will be a flagship development of this type showcasing the very best that Extra Care Living has to offer".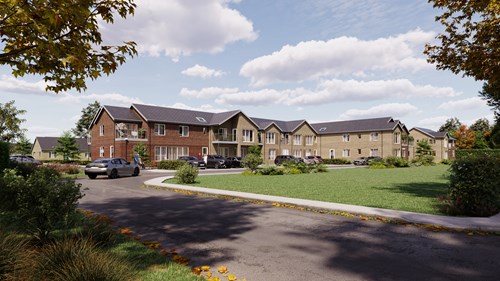 CGI of development in Suffolk 
James Wilson, Director and General Manager at R G Carter added; "We're thrilled to have the opportunity to work with Housing 21 on this much-needed extra care housing development in Thurston. We look forward to developing a safe, comfortable, and enjoyable community for its future residents." 
Keith Towers, Chair & Trustee at Thurston in Need Charity said: "TRIN Charity are pleased to report that good progress has been made with the proposed Extra Care housing scheme on land adjacent to Heath Rd. Thurston, and Housing 21 are now able to proceed to the next stage. This project will provide much needed specialist accommodation for older members of our community and beyond. 
TRIN Charity would like to thank Housing 21, and in particular Peter Smith, for their considerable efforts in bringing this project to fruition". 
Christopher Dashper, Chair of Thurston Parish Council said: "Thurston Parish Council is pleased to see the commencement of the Housing 21 project in Thurston. Delivery of a project of this nature is a key objective of Thurston's Neighbourhood Plan, supporting a range of sustainable housing solutions for current and future generations of a rapidly growing community. The project brings significant added value to the local community, and we congratulate the efforts of all involved to bring this project to fruition." 
Residents will benefit from a wide range of communal facilities, including a communal lounge, activity room, laundry, communal gardens and health suite and guest room. Additional facilities will also be available for use by the wider local community including a café and hair salon.   
The Housing 21 Development Team has worked closely with Mid Suffolk District Council and Thurston Parish Council in successfully taking this scheme through planning. The scheme is forecast to open in the Spring of 2025. 
To find out more about the Extra Care scheme, visit: Housing 21 - Michaelmas Court