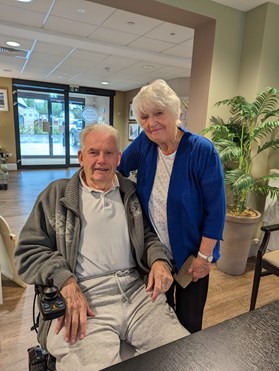 Pictured: Valerie and Peter 
Valerie and Peter, aged 83, have found their perfect home at Housing 21's Extra Care scheme in Bentham.  
The couple previously lived in a park home in Grantham for 18 years. However, as time passed, they realised they needed assistance due to Peter's falls and Valerie's back problems. Their daughter and son in-law, who lived in Ingleton, suggested Housing 21 because of the Extra Care support that was available
"After careful consideration and even involving our son visiting from Australia, as a family we decided that this was the best decision for us." said Valerie.  
Valerie and Peter had previously known little about shared ownership. Still, they saw it as an opportunity to secure a home in their preferred location with a limited initial capital outlay. They opted for a 50 percent ownership share, a choice that suited their budget. 
Valerie said: "The process of transitioning to Housing 21 was smooth, thanks to the assistance of Housing 21's sales manager, Shaun, and expert solicitors experienced in shared ownership. 
"We enjoy the benefits of shared ownership, such as lower rent compared to traditional renting, which leaves us with enough income to enjoy our retirement." 
When asked about staircasing (increasing ownership percentage), Valerie and Peter decided against it.  
"We prefer to use our money to enjoy our lives and to be able to continue doing the things that we love," said Peter.  
Living at the Extra Care scheme, they appreciate the privacy of having their own front door whilst also enjoying a thriving community with activities like bingo, birthday parties, film nights, and choir rehearsals. The guest suite at the scheme has also hosted their friends from the park home, who have visited the couple.  
Valerie and Peter's advice to others considering shared ownership and Housing 21 is clear. 
"If your capital is limited but you desire a more suitable property, shared ownership is worth exploring. Housing 21 offers reassuring Extra Care support and a vibrant community," said Valerie. 
Valerie summed up why Housing 21and Extra Care is a perfect fit for herself and Peter, "As a couple, we value our independence and the ability to engage in activities that interest us. Whether it's a weekly breakfast club that only Peter attends or a knitting session that I enjoy taking part in.  
"We know that Extra Care is available, should we need it, and it is reassuring to know that there is the support available if and when we need it."  
Valerie and Peter's journey to Bowland View showcases the positive impact of shared ownership and Extra Care with Housing 21, providing a valuable perspective for others considering a similar path.  
To find out more about shared ownership, visit the website:Housing 21 - Move into a brand new home with Housing 21. Our team are on hand to help you make the right move for you and your loved ones.