A flagship development designed to support residents with dementia has been named Most Innovative Supported/ Sheltered Housing Scheme at the 2022 Housing Digital Innovation Awards.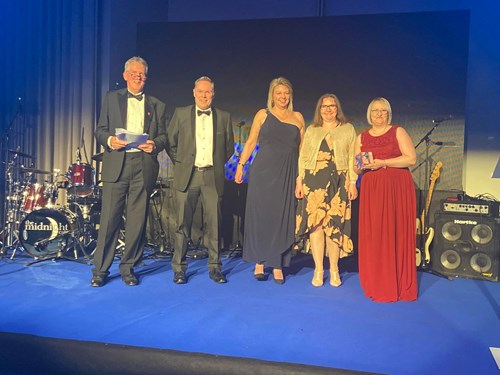 Pictured from Housing 21 are Angela Philpot, Maureen Dunn and Janye Read
On Thursday 11 February, Housing 21 scooped the accolade at a prestigious ceremony in Birmingham after judges recognised the attention to detail afforded to residents at Meadow Walk in Fakenham, Norfolk.
The Extra Care development, which comprises 66 one- and two-bedroom apartments for rent and shared ownership features £90,000 worth of dementia friendly features and represents the region's first scheme to be designed around the condition.
Tony Tench, Deputy Chief Executive for Housing 21, said: "Dementia rates among people over the age of 65 in Norfolk are above the national average and the most common reason people are admitted into long term, residential care, often leading to the separation of couples who have spent a lifetime together.
"When designing Meadow Walk, we did so with this information in mind so we could deliver an innovative approach to suit people's specific needs. As well as promoting social interaction and activities which prompt long-term memory recall, the scheme also has Care Workers based on site 24/7, enabling people to live as independently as possible but with the reassurance of support if needed."
As an Extra Care scheme, Meadow Walk allows couples to continue living together with the support of Care Workers, who relieve some of the responsibilities of care so residents can concentrate on spending quality time together. In addition, its pet friendly policy means residents can continue to enjoy the companionship of their animals, helping to combat feelings of loneliness of isolation.
Its dementia-friendly features include a 'nostalgia room' featuring a village store and post office; indoor garden-themed relaxation areas and a potting shed. There is also a replica of an old-fashioned curiosity shop displaying an array of household items from yesteryear, complete with a traditional-style streetlamp outside.
Colour and contrast have been used in the scheme's design to enable residents with sight impairment and dementia to identify different areas and navigate their way around more easily. This includes colour-coded floors, accessories, and seating.
There are murals depicting the local area and each wing is named after a local street. Fabrics have been used throughout featuring images of planting, farms, chicken houses and street scenes, in colours complementing the design of each area of the building.
In contrast to years gone by, the scheme also harnesses digital technology to increase the safety, comfort and wellbeing of Meadow Walk residents.
This technology has been built into the scheme during its construction to provide a digital call system connecting residents to each other, the court manager and our 24-hour care line emergency service.
Each apartment has a permanently powered, wall-mounted, touch screen android tablet which is connected to a central on-site computer. Residents can raise the alarm by pressing the virtual emergency button, which enables a quicker response than an analogue call system as well as allowing multiple calls to be dealt with at the same time.
Mr Tench said: "What makes Meadow Walk special is that by combining the memories associated with years gone by, with the advantages of modern-day technology, we have created a scheme that enables residents to enjoy reminiscing and living independently in a safe and supportive environment where they feel truly at home."
The Housing Digital Innovation Awards are an annual event which this year took place at Edgbaston Cricket Ground. Housing 21 was shortlisted in the Most Innovative Supported/ Sheltered Housing Scheme alongside Myos House by Ongo and Stonewall Housing's Supported Accommodation Scheme.