Alex Sobel, MP was welcomed to Lady Ida Lodge in Leeds by Extra Care Director Kris Peach and Housing 21 employees.
The local MP for Leeds North-West visited the scheme which offers independent living with access to on-site care for people over the age of 55, following an invitation by Housing 21, the national leading provider of Retirement Living and Extra Care properties.
Speaking about his recent visit to the Housing 21 Extra Care scheme, Mr Sobel said: "It was really nice to meet with the employees from Housing 21, who showed us all the facilities and extra care available. I also really enjoyed meeting with residents and the Residents Association to discuss local concerns. It's great that high quality, affordable homes for older people exists in our area."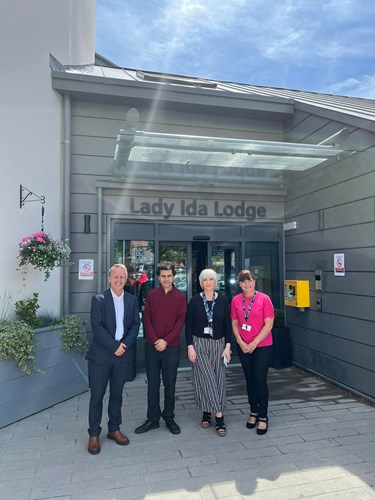 Pictured: (left) Housing 21 Extra Director Kris Peach with MP. Alex Sobel and Housing 21 employee
Residents had the opportunity to meet with Mr. Sobel, as he was given a tour of the scheme and spent time chatting with some of the residents and employees. 
Mr. Peach said: "It was a pleasure to show local MP Alex Sobel around Lady Ida Lodge in Leeds to demonstrate the amazing impact extra care can have on people's lives. The residents had a great time meeting Alex too.
"It is important to spotlight our Extra Care and Retirement Living properties, as not all people are aware that such high-quality properties exist for people who wouldn't normally be able to afford such homes."
Lady Ida Lodge offers independent living with access to on-site care for people over the age of 55, with 64 one- and two-bedroom apartments available for rent and shared ownership.
The scheme has been designed to provide fully accessible facilities for both residents and visitors, which include a café/bistro and hair salon.