Grace O'Connell, a resident at Housing 21's Graeme Bryson Court, has celebrated her 101st birthday by gifting afternoon tea boxes to all the residents at the retirement housing scheme. Grace would usually celebrate her birthday alongside her whole family and neighbours with a big party in the communal lounge at the scheme. However, due to coronavirus restrictions, she needed an alternative way to celebrate her birthday on the 24th of January.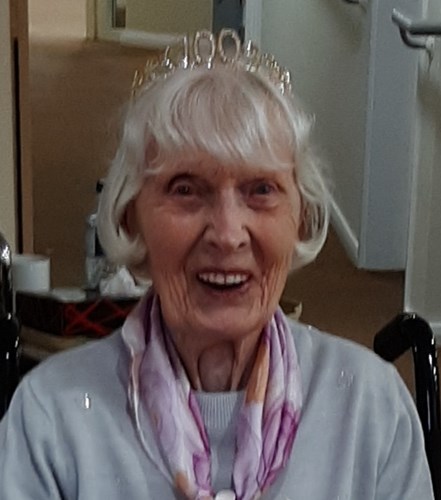 The afternoon tea boxes were made by Grace's son's daughter-in-law, Elaine, and her friend Cathy, who usually make a birthday cake for Grace. This year, they were given the task of making 30 afternoon tea boxes for Grace and the other residents. Knowing that some of the residents may be feeling lonely without visits from their families during the latest lockdown, Grace hoped the boxes would brighten their day.
The boxes included sandwiches and cakes, plus a note from Grace who wanted to do something to cheer up the other residents. Court Manager Barbara and cleaner Rita then delivered the boxes to the door of each resident on Grace's birthday.
Last year, Grace celebrated her 100th birthday with a huge party at the scheme and had hoped to be able to do the same this year. Although a party was off the table, luckily, Grace was able to spend her special day with her son Graham who is in her bubble.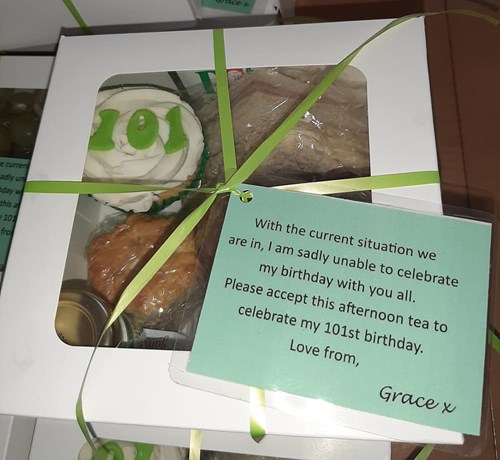 Graham said: "We usually use mum's birthday as an opportunity to say thank you to the staff and other residents at Graeme Bryson Court for always keeping an eye on mum and keeping her company. She is the oldest resident at the scheme and we're very grateful to know she has such good friends around her. We usually love to celebrate with a big do but we found a different way to say thank you this year."
Grace has lived in Liverpool for almost all of her life - except for when she was evacuated to Kent during WW2 - and has lived at Housing 21's Graeme Bryson Court in Norris Green for ten years. She moved to Graeme Bryson Court after the sad passing of her husband Jim in 1996.
After living with her son Graham for a while, Grace decided she would like to move back to Liverpool from her bungalow in Warrington. Grace's sister Betty lived in Graeme Bryson Court already and when Grace visited to look around, she loved it and decided to become a resident.
As a very independent lady, Grace still does all her own cooking and cleaning in her flat and when asked what the secret is to reaching 101 years of age, Grace said: "Work hard and do the best you can."
Grace has a massive family with three sons, seven grandchildren and fourteen great grandchildren.  Usually, her whole family would be there for Grace's birthday, with some travelling up from down south to celebrate with her, along with all the residents and even the local vicar. Last year, celebrations involved an afternoon tea, buffet and a big party taking place over the whole day.
Fortunately, Grace did get a visit from some of her grandchildren and great grandchildren this year, who stood outside to give their birthday wishes due to visitor restrictions at the scheme.
As a particularly social resident, often involved in the events Housing 21 put on, Grace was glad to be able to include the other residents in her celebrations in some way, thanks to the help of her family and Court Manager Barbara Foy.
Barbara said: "Grace is truly amazing and very independent; it was great to be able to help her to celebrate her birthday by delivering the afternoon tea boxes to residents despite not being able to have the usual party we would put on in the communal lounge".
Grace and her family received many thanks from the residents for their kind gesture that brightened everyone's day. As well as a number of cards and presents, including a bouquet from Housing 21 as a birthday gift.