Residents at a local Walsall Care Home, The Watermill, have been celebrating the opening of their new 1950's inspired diner.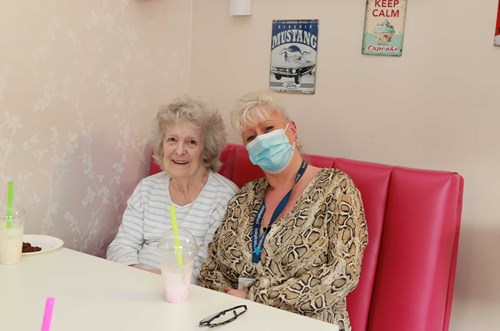 Resident Janet and Care Home Manager Joy at The Watermill's 1950s diner.
Complete with bright pink booths, jukebox playing hits from the 1950s and 60s and checkerboard floor, Care Workers at dementia specialist care home The Watermill, took the initiative to raise funds and created the space during the pandemic.
Joy Sumner, Care Manager at The Watermill, said: "Reminiscence is really important for people living with dementia. A lot of our residents were going out to dances in the 1950s and 60s and the idea behind this is taking them back to a time where they will have enjoyed socialising, going to the cinema and then to the diner for some food.
"I'm so proud of Cath and Andrew for creating this space. They had the idea and thought it all through, raised the funds that were needed and went to pick up the decorations."
Previously an under-used quiet room, Care Workers Cath and Andrew took the initiative and decided they wanted to turn it into something lovely for residents during the pandemic.
Now residents enjoy using the space, to sing along to tracks such as 'don't step on my blue suede shoes' and have a milkshake.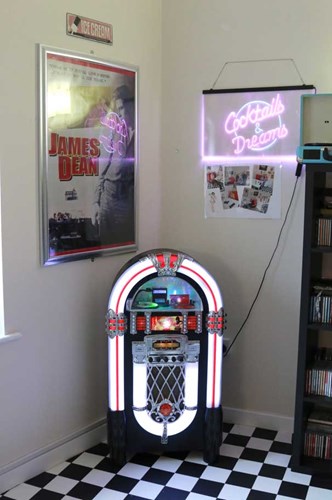 Inside The Watermill's 1950s diner
Cath said: "It's been fun creating this space for the residents – and my colleagues! – to enjoy. We've sourced the posters, jukebox and all the accessories and raised funds by holding raffles and doing clothes collections. I never would have thought I'd have got to do something like this in a career in care!"
Andrew commented: "We've thrown a few celebrations in here – a grease themed party and a couple of residents had their 60th anniversary dinner in here. I've been working at the Watermill for 10 years and as far as job satisfaction goes, seeing the residents using and enjoying the new diner is so rewarding."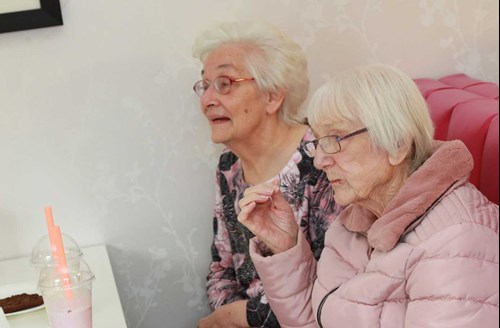 Carole and Barbara enjoying the diner
Joy commented: "We're recruiting for Care Workers at the moment, and I'll always look at someone's application if they didn't have experience, so long as they have the right attitude!
"I'm a firm believer in shadowing and giving on-going support and the opportunities to make a difference to people's lives and career progression are endless."
Resident Carol said: "The diner is fantastic. I enjoy singing along to all of the songs – come on and work here, we'd love you and you'd love us!"
The Watermill is currently recruiting for Care Workers and offers guaranteed hours contracts alongside a rate of pay 10% above the National Living Wage. Contact Joy Sumner on 0370 192 4220 or email Joy.Sumner@housing21.org.uk for more information and to apply.