Building work is underway on a new Extra Care Living scheme in Bishopton, Stratford-upon-Avon after a ground-breaking ceremony this week.
The new scheme in Warwickshire, which is being developed by Housing 21 in partnership with Warwickshire County Council and Galliford Try Partnerships, will provide 75 two bedroom apartments for affordable rent and shared ownership. The development will offer people over the age of 55 a range of services and facilities including a 24 hour on-site care team for those who need it, a café/bistro, hair salon and communal lounge which is also available to the local community.
The Extra Care Living development, located off Drayton Road, is set for completion in January 2021. The first residents are expected to move into their new homes from March 2021.
Representatives of Housing 21, Warwickshire County Council contractor and Galliford Try Partnerships were also joined by the portfolio holder for adult social care and health, Councillor Les Caborn.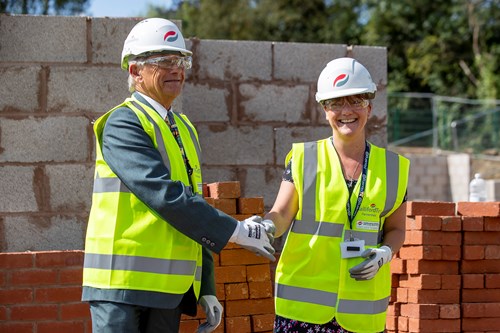 Portfolio holder for adult social care and health, Councillor Les Caborn and Donna Holmes, Head of Extra Care at Housing 21
Councillor Les Caborn said: "Extra Care Housing is significantly different from traditional residential care, giving individuals and couples the option to live 'at home' rather than 'in a home'.
"The schemes offer older people greater independence and control of their lives through purpose built, self-contained apartments, each with its own front door. It is a very real alternative to living in a residential care home.
"Warwickshire County Council is committed to working with both its District and Town Council colleagues to provide the highest level of housing with care for its vulnerable citizens. The forthcoming accommodation here in Bishopton – a mix of 75 one and two-bedroomed apartments for rent or shared ownership– will be the first Housing 21 scheme of this type in the District suitable for older people aged 55 and over with varying levels of care needs."
Donna Holmes, head of extra care at Housing 21 said: "We are delighted to be working in partnership with Warwickshire County Council and Galliford Try to provide the latest Extra Care scheme in Warwickshire."
"Housing 21 is the leading provider of Extra Care across England, providing at least 10 percent of the country's provision. We will be working closely with the local schools, older peoples groups and the social work teams in Warwickshire to ensure a fully integrated and community feel to the scheme upon opening. This ceremony marks the beginning of a very exciting build journey!"
Sean Keenen, project manager at Galliford Try Partnerships said: "It is great to be working in partnership with Housing 21 and Warwickshire County Council on this scheme in Bishopton, Stratford."
"Galliford Try Partnerships are Extra Care specialists; we truly care about the design and build of this and all the schemes we build for over 55s. Everyone deserves to be happy in their home."