Housing 21 first began as the Royal British Legion Housing Association, which in 1921 began to house disabled ex-servicemen and widows and, later, older ex-servicemen and women. In 1992 we split from the RBL to offer housing to all older people, whether they had a service background or not. However we are very proud of our roots, and as RBL marks its 100th anniversary today, we're sharing one of our resident's memories from his time in the Navy.
Paul Sweeney, of Johnson Court, joined the Royal Navy when he was 23 years old, and went into the submariners. He loved to cook and found his niche in the galleys on board the 4 R's: Resolution, Renown, Revenge and Repulse - all Polaris submarines.
Showing his comedic side, Paul would put on performances on board with his friends, dressing up and singing to entertain the crew. He is still in contact with a friend from those days, who now lives in America.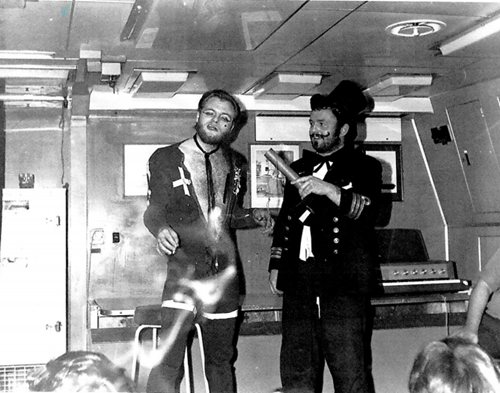 One of Paul's highlights was when he met the Queen Mother and she commented on the beard he had started to grow (they had to have permission to grow a beard), saying it was "neither here nor there, it will be better when it grows a bit more".
Paul took pride in what he did, and as you can see from the photos, he made chocolate galleons for 'The Trafalgar Night' - this was a tradition, and was served to the officers with sparklers, then the officers would break them up and eat them for dessert. He also cooked up and served a baron of beef on this very special evening.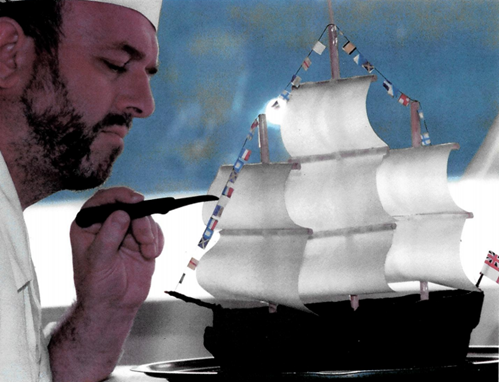 On Wednesday 4 December 1991 whilst Paul was on Revenge Submarine, they had a visit from Vladimir Lobov, Chief of Soviet General Staff. This was the first time a Russian had set foot on a Royal Navy Vessel. Paul is seen in the picture with him chatting about pensions and food.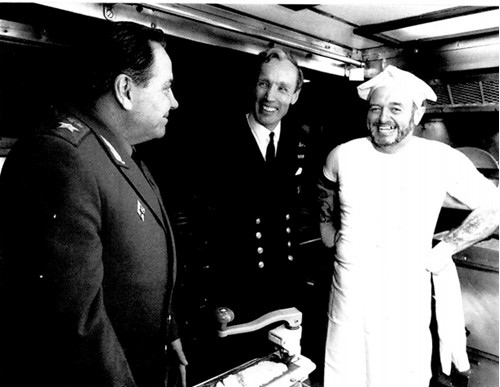 The picture with people on a landing, waiting for the submarine to come in was taken on a 'Family day', when your family could come on board the submarine and see for themselves exactly what it was like.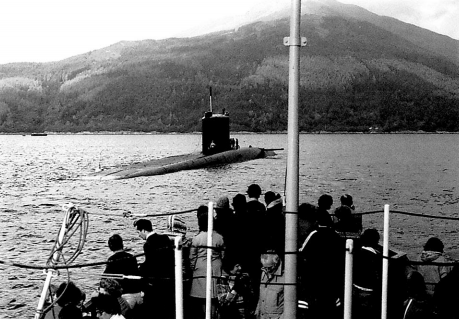 During his time in the Navy, Paul went to Florida and witnessed a test missile being trialled out in the sea, off the coast of Florida.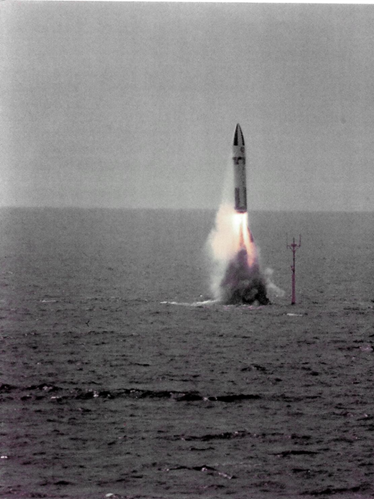 Last but not least, is a picture of the Commendation Paul received on leaving the Royal Navy.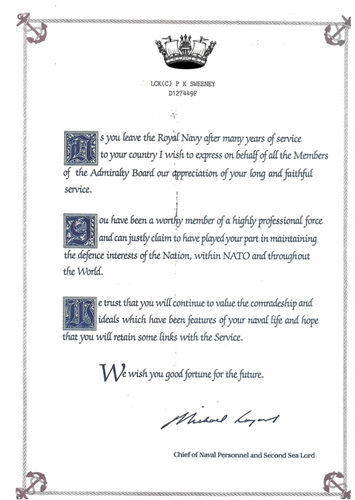 Thank you to Paul for sharing these wonderful memories with us.