by Steve Hogben, Head of Construction
There isn't a day that goes by where we don't hear of the dramatic impact Coronavirus has had across the world. The unprecedented global challenge continues to have a significant effect on businesses and that, of course, includes the construction industry.
We had a challenge – how do we step up, adapt and continue the vital work needed by so many across the country?
Those who know Housing 21 will already be aware of our ambitious build programme, working towards providing at least 800 new properties per annum by 2022/23. Our Extra Care and Retirement Living schemes provide homes to older people, some of whom are in receipt of care and many who are most vulnerable to the virus. We knew the pandemic would mean an inevitable delay in the completion of schemes, and consequently for new residents moving into our properties, so as a team we began to draw up plans to reduce this as much as possible. Our work has always been important, but while every person in the country remained within the four walls of their homes, we felt this more than ever.
When the nation went into lockdown, we already had 19 schemes on-site across the country with a number of different contractors and local authority partners. 16 of our sites closed at the end of March while we put preparations in place for them to safely progress with works. All sites were re-opened by the end of June and now operate under new conditions in line with Construction Leadership Council guidance.
In April and May, two of our schemes completed, Claremont House, which offers 49 Retirement Living apartments for older people in Derbyshire and Fry Court, which offers 57 Extra Care apartments for older people in Great Ayton, North Yorkshire. Fry Court, opened at full capacity, reflecting the high demand for this kind of accommodation and showing just how important it was for us to ensure this was delivered on time to its community.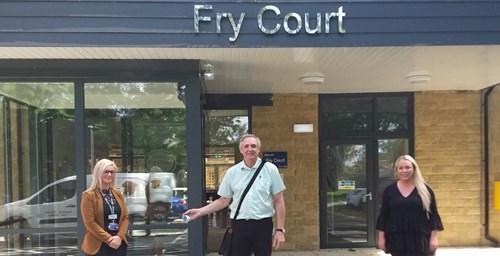 The keys for Fry Court are handed over upon completion, while staff socially distance
We now continue works on the remaining 16 Extra Care schemes, which will deliver 1063 new affordable homes - 32 of which are bungalows – and one Retirement Living scheme, which will deliver 26 new affordable homes. We also have a number of schemes in the pipeline and are exploring options for holding virtual public consultations and engaging with local communities, in a safe and socially distanced way, about the prospect of co-housing in their areas.
So while the days pass and the impact is felt, what we all now know is that we are much more capable of adapting than we once thought. The construction industry is used to dealing with difficult times and adapting to change, but the true spirit of partnership working, collaboration and commitment to getting the job done, really shone through at Housing 21 during the global pandemic and it will never be taken for granted.