Since the beginning of the pandemic, we've spent more time in our homes than ever before. Many of us, who were already considering a move - perhaps to downsize or to look for that little bit of extra support – might have found that the additional pressures of recent times have given us that extra push to consider what options are available. Perhaps what was once your large family home is now far too big and a chore to manage – or maybe you're caring for a partner and you've now realised the significance of help and support from loved ones after having it removed in lockdowns. Whatever your reason to move, you are not alone in your desire to start a new chapter during these unprecedented times.
Here, Claire Charlton, Head of Extra Care – North at Housing 21, a leading not for profit provider of Retirement Housing and Extra Care, explains the rise in popularity of alternative housing and care options and why more people have moved into Extra Care properties in the last year.
"When I think about the extent that things have changed in terms of older people's housing and care options over the last 20-30 years, I have to remind myself how far we have come to find a solution that suits every individual," said Claire. "Gone are the days of limited options. We've moved on from the only choice being residential care homes. There are also now options to stay where you are and receive care in your home, specialist retirement housing, and the ever-popular Extra Care, where you can live in your own apartment and have access to an on-site care team 24/7, as well as a range of communal facilities such as a hair salon, café/bistro and lounge." 
The right home is priceless
The variety of options now available means that people are only choosing residential care homes when it is the right move for them and others are able to find suitable options for their own personal circumstances.
This was more important than ever for Frank and Sheila, a couple who now live in one of Housing 21's Extra Care schemes after nearly having to live apart as a result of differing health conditions and inappropriate accommodation.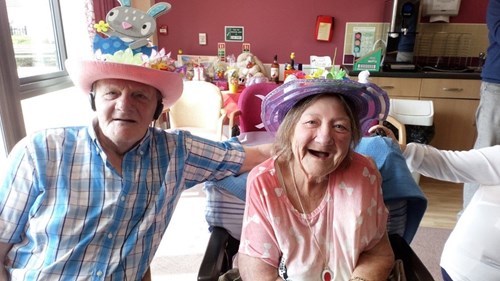 Frank and Sheila
Frank and Sheila were each other's lifeline after being married for over 50 years - so living apart wasn't an option. Sheila had stayed in a care home temporarily after being discharged from hospital in the past and so she had seen with her own eyes that their needs didn't warrant the move into residential care. When they found their Extra Care property, Sheila felt 'as if she had discovered a miracle'. They now happily live in their own home independently, receiving personalised care from Care Workers they have come to know very well, and have many new friends who live in neighbouring apartments.
"Moving into Extra Care has changed our lives," Sheila said. "The staff here are brilliant – everyone from the care team, to the kitchen staff, to management. Nothing is ever too much trouble. Frank gets involved with activities and gardening and we are in the café every day to enjoy our meals. We haven't used our oven since we moved here in 2019!"
Is now really the right time?
"At the beginning of last year we were all blissfully unaware of the panic and devastation that was about to hit the country," comments Claire at Housing 21. "That initial panic and worry caused everything to grind to a halt and when we were eventually able to start moving people into new homes again, we saw an influx of people who were interested in both our new build Extra Care developments and our existing schemes.
"During this pandemic, in the context of managing over 21,000 properties for older people of modest means and having over 24,000 residents, our Extra Care and Retirement Housing schemes have proven to be a safe haven compared to some other forms of housing and care for older people," she continued. "A Housing 21 resident has their own home, typically an apartment or bungalow with their own front door. This means for those shielding or needing to self-isolate they can do so easily, whilst still receiving social support, access to deliveries and assistance from a distance. We are also able to ensure that if there are any positive covid cases in our schemes, we have dedicated Care Workers who solely support these individuals to minimize the risk of spreading.
"The 24/7 care service is based on-site and the care staff really have risen to the challenge and have been fantastic throughout the pandemic, frequently putting themselves at risk to make sure residents are safe and well. One of our Housing and Care Managers in Gateshead was actually on the Queen's Honours List last year for her leadership and response to caring for residents with positive covid cases."
The great outdoors
Research by mental health charity, Mind, indicates that spending time in green space or bringing nature into your everyday life can benefit both your mental and physical wellbeing. According to the charity, doing things like growing food or flowers, exercising outdoors or being around animals is proven to have lots of positive effects.
"Over the last year or so, we have acknowledged and promoted the importance of residents being able to enjoy the outside space and talking to neighbours, abiding by social distancing, for their own wellbeing and mental health and it has been a real positive," continued Claire. "Our Extra Care schemes have landscaped gardens so outdoor exercise can also be done conveniently close to home. Many of our green-fingered residents have also been able to keep their gardening hobbies going, which had added importance when a lot of their regular activities were unable to continue. 
"And of course, pets are welcome in our schemes too so those with furry companions have been able to reap the health benefits."
Recent move-ins
Housing 21 has continued to build new properties safely during the pandemic. The organisation has opened three new Extra Care schemes in the last year – Box Tree Court in Boston Spa, Leeds, Fry Court in Great Ayton, North Yorkshire and Strawberry Gardens in Yatton, North Somerset since March.
"We're pleased to be able to carry on helping people find new homes safely during the pandemic. We have a number of measures in place to help people view and reserve properties and also move people in safely.  Our show homes can be viewed virtually should people wish and move-ins are managed on allocated days to minimize the number of people walking around the schemes at the same time.
"We also ensure that all removal companies helping new residents provide us with their COVID-19 method statements and we have enhanced cleaning measures in place to follow removal men to clean surfaces and key touch points such as bannisters, lift buttons and handles etc.
"People moving in to start a new chapter of their lives can do so comfortably and without worry," she concluded.