Inspectors have heard how employees at an Extra Care development "go over and above to care for both each other and residents" at the scheme's first formal inspection since it opened in November 2020. 
Box Tree Court in Boston Spa has received an overall grading of 'Good' – one rating below outstanding – following a visit by Care Quality Commission (CQC) inspectors in March this year.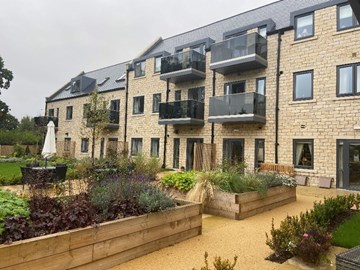 Pictured: Box Tree Court in Boston Spa
In their report, inspectors noted: "Staff promoted people's independence and treated them with dignity and respect. People were supported to have maximum choice and control of their lives and staff supported them in the least restrictive way possible and in their best interests.
"Through our discussions with people we were confident the service was delivered in a way that promoted and celebrated people's differences. Staff were committed to working collaboratively and liaising with other health and social care professionals to achieve better outcomes for people."
During their visit, inspectors reviewed the standard of care provided to residents, including personal care and medication, and spoke with residents, their relatives and employees to assess levels of satisfaction living and working at the scheme.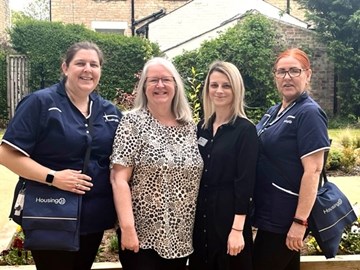 Pictured: Box Tree Court's Housing and Care Manager, Steph Lee (second from right) with some members of the Care Team
They also spoke with healthcare professionals, with one individual reporting: "The team go over and above to care for both each other and residents, often staying late on shifts to help or make sure someone is safe. They are a huge support to me and have welcomed me to Box Tree so I also feel part of the team."
Box Tree Court opened in the City of Leeds metropolitan borough offering independent living with access to on-site care for people over the age of 55 of modest means.
The pet-friendly development incorporates 44 apartments available for rent and shared ownership with an on-site café/bistro and hair salon for use by the community. There is also a residents' lounge, activity room, treatment room and communal gardens for residents and their guests to enjoy.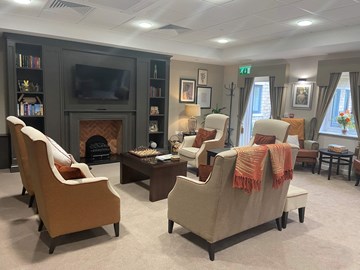 Pictured: The communal lounge at Box Tree Court
In written feedback, a relative of a resident living at Box Tree Court told the inspector: "The employees at Box Tree Court have been amazing. They have developed a relationship with [my relative] which makes her feel safe and cared for. They have learned to treat her firmly but with the banter to which she responds and in return she has become fond of many of the employees who provide her daily care."
In addition to the care provided by employees at Box Tree Court, residents are offered the opportunity to join in organised activities including bingo, Saturday evening social gatherings and aerobic classes. Alternatively, many used the communal areas to informally gather to watch television, listen to the radio or do the gardening.
Steph Lee, Housing and Care Manager at Box Tree Court said: "I am extremely happy with of all the efforts of everyone at Box Tree Court in achieving 'Good' for our first inspection. The team work hard daily to ensure we deliver the best care we can and for CQC to acknowledge this during the inspection makes me very proud."
Box Tree Court is currently recruiting Care Workers at an hourly rate of £10.67 plus a 50p enhancement for night employees.
For more information about Housing 21 or Box Tree Court, including how to apply visit www.housing21.org.uk