A North Yorkshire Extra Care scheme for people over the age of 65 is celebrating being rated 'Good' by the Care Quality Commission (CQC) following its first inspection.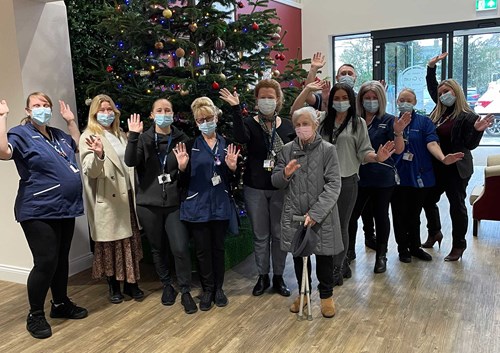 Rebecca Pippen, Care Worker; Denise Dawson, Care Worker; Angela Coates, Care Worker; Sarah McCluckie, Care Worker; Rebekah Addison, Care Worker; Maureen, Resident; Tracey Corfield, Assistant Care Manager; Beverley Collins, Assistant Care Manager; Steven Sherwood, Care Worker; Karen Hamer, Care Worker; Holly Hunton, Housing and Care Manager at Fry Court
Fry Court in Great Ayton, operated by Housing 21, welcomed its first residents in June 2020, and provides private and secure apartments with access to on-site care for those who need it. The scheme has a dedicated Housing and Care Manager and an on-site care team which is available 24/7.
The inspection by the independent regulator of health and adult social care in England, considers five key questions; 'is the service safe?', 'is the service effective?', 'is the service caring?', 'is the service responsive?' and 'is the service well-led?'. The report highlighted the scheme's strengths in developing positive, caring relationships with residents and emphasised the choice and control residents have to live independently.
The report stated: "People and their relatives told us they were happy with the care and support they received from Fry Court. People received their care from a consistent staff team, with whom they had built trusting relationships. Everyone told us staff were caring and patient.
"People were supported to have maximum choice and control of their lives and staff supported them in the least restrictive way possible; the policies and systems in the service supported this practice."
One relative said: "The staff are so attentive and careful."
The CQC report praised employees, commenting on how colleagues worked flexibly and were supported to respond to changes in people's needs when required. One resident told the inspector: "There are lots of carers, they never rush and they stay for the whole visit. If they've finished with care, they stay and chat."
The report highlighted how residents are supported and treated with dignity and respect; and involved as partners in their care. Residents received care and support from a consistent staff team which helped people to remain independent.
One resident said: "I did a lot of my recovery at home because of the carers. They supported me but also helped me to regain my independence. They would stand back and say, 'do what you can' and then when I couldn't do anymore they would help me. I am now out of a wheelchair and walking with a frame."
Throughout the pandemic, employees had access to personal protective equipment (PPE), such as disposable masks, gloves and aprons.
One relative told the CQC Inspector: "The pandemic has been managed really well. Staff all wear proper PPE and they kept the main doors locked so outsiders couldn't just walk in and out without them knowing."
Holly Hunton, Housing and Care Manager at Fry Court said: "I am delighted with this report. I am super proud of the team for achieving this - Fry Court is a new scheme and bearing in mind we have been operating during a pandemic, the team have done an amazing job."
89% of Housing 21 Extra Care schemes are rated either 'Good' or 'Outstanding' by the CQC.