Older people from Birmingham's Lozells, Aston and Handsworth areas came together to discuss plans for a flagship cohousing scheme that will enable them to design and live in a purpose-built community development.
Housing 21, a leading not-for-profit provider of housing for older people met with older people from Lozells' to discuss proposals to transform the derelict site of the former 20-storey Clyde Tower apartment block in Chain Walk into the organisation's first cohousing project.
As Covid-19 restrictions have eased, potential residents were able to meet with Housing 21 in person to review plans for the new development, which will be built around their specific needs and requirements.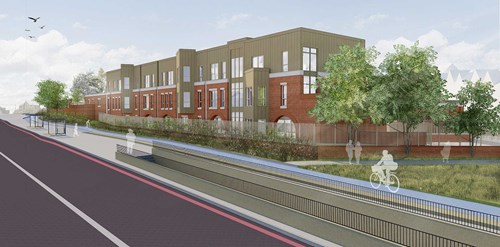 Pictured: A CGI image of the exterior of the scheme
Tony Tench, Deputy Chief Executive for Housing 21, said: "For over 50 years we have been building quality Retirement Living and Extra Care developments for older people of modest means to enjoy and we are proud of what we have achieved. However, for the first time we are inviting the people who we want to live in our properties to help us design them from the very beginning, enabling us to tailor their homes, the wider site and the services to their needs.
"Cohousing represents a major breakthrough in the future of housing provision by giving people more choice and control of their future home, as well as creating a sense of community amongst the residents who will come together to bring their vision to life. This is about more than providing a quality property for people to live in; it's about creating a community of older people that is integrated with the wider community of Lozells."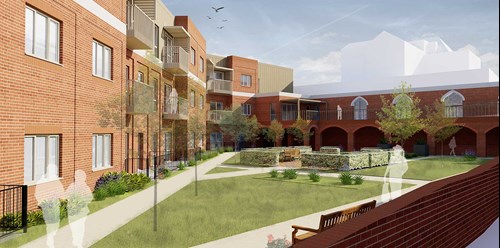 Pictured: A CGI image of scheme's courtyard
At the latest consultation, approximately 20 people attended to discuss ideas about what features they would like the development to include, which have now been submitted to Birmingham City Council's planning department.
In addition to 25 one- and two-bedroom apartments which will be available for social rent, the application includes a residents' lounge/ mulit-faith room, landscaped communal garden, parking and an allotment area for residents to grow their own vegetables.
The scheme will also include common house area with a kitchen and open space, where the community could come together to cook and eat; as well as space for activities such as yoga.
The entire scheme will be gated, providing residents with the security and safety they require. Future consultations will be held during the consultation period with the consultee group to discuss fundamental design details as well as the name of the scheme and how it will be managed.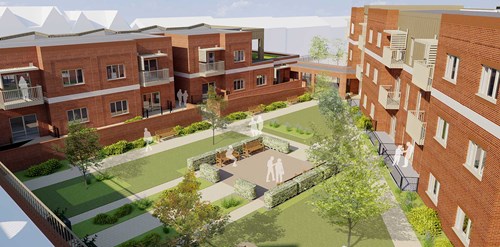 Pictured: A CGI image of scheme's courtyard
Aftab Rahman, Director of WM Legacy who are supporting Housing 21 with community engagement, said: "We are very excited to be working with Housing 21 on this project with the community at the heart of it all. There some traditional structures with multi-generational households are becoming harder to maintain. These houses will give older people the opportunity to live more undependably in a shared communal space"
Chain Walk is the first of a number of sites in Birmingham which have been identified by Housing 21 in partnership with Birmingham City Council to be transformed into cohousing developments for older people, with further information to be announced in due course
Birmingham City Council is expected to decide on the planning application in spring this year and it is hoped that the development will welcome its first residents in early 2024.