A craning-in ceremony has marked the start of construction for a new development of retirement apartments and bungalows.

Housing 21 met with representatives to officially launch the start of work on 12 apartments and eight bungalows for Patent House and Patent Walk, which are located next to Minden Court in Doncaster, also owned by Housing 21.
The ceremony, which was attended by members of Doncaster Council, representatives from Housing 21 and several neighbouring residents, marked the beginning of the second major phase of construction with the very first properties being craned into site.
This new scheme is being developed by Housing 21, a leading not-for-profit provider of Retirement Living and Extra Care for older people of modest means. This scheme is being built by M-AR and has received funding from Doncaster Council and Homes England.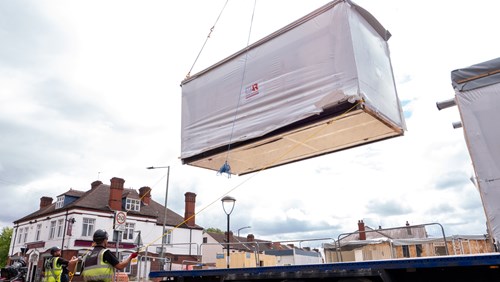 This Retirement Living scheme will provide eight two-bedroom bungalows and six one-bedroom and six two-bedroom apartments for local people over the age of 55. All 20 properties will be available for social rent.
Deborah Hope, Head of Development at Housing 21, said: "We are delighted to be working in partnership with Doncaster Council to deliver our Retirement Living Scheme, Patent House and Patent Walk. This new development will provide much needed, high-quality accommodation to support local older people and their changing needs. One of the benefits of this kind of scheme is the connection to and feeling of community and being able to interact socially in a safe and comfortable space."
Patent House and Patent Walk have been designed to promote independent living within a community setting. Residents will benefit from a range of facilities, including a communal lounge, gardens, and guest room, which will also be accessible to visitors and the local community.
The properties, located off Cooke Street, are set for completion in Spring 2023. The first residents are expected to move into their new homes in April 2023.
Cabinet member for Housing and Business, Cllr Glyn Jones, said: "As part of the five-year Housing Delivery Plan, we're always looking to improve our housing offer to older people and those within our communities with physical disabilities. These new homes meet those objectives and local residents will benefit massively.
"We are currently facing a cost-of-living crisis and with residents struggling with rising costs, these homes will focus on affordable rents and energy efficiency whilst also protecting and enhancing the natural environment through sustainable development.

New housing developments, either via our own council build programme or facilitated through our Housing Association partners, will be delivered in a way that meets the needs of our residents but also respects our environment, with the aim to deliver new, well designed, energy efficient and affordable homes that match needs across the Borough."

Mark Fox – Manufacturing Director at M-AR added: "We're proud to be working in partnership with Housing 21 once again on this, our third project with the team, as their ethos and values align perfectly with ours. It's great to have the opportunity to pause during a project like this and celebrate what we've achieved so far - the craning-in ceremony also gave Housing 21 the chance to watch the project quickly take shape on site, having already seen the modules on the production line in our factory a few short months ago.

As well as increasing the speed of installation and limiting disruption to the local residents around the site during construction, opting for a modular offsite build is also more sustainable, allowing us to achieve net zero status on a large scheme like this too."