Poppy Meadows, a new Extra Care Living development on Didcot's Great Western Park Urban Extension development, moved one step closer to completion as the build reached its highest point.
A topping out ceremony was held to mark the key milestone for Housing 21's latest Extra Care scheme, which has been developed in partnership with Vale of White Horse District Council, Oxfordshire Housing and Growth Deal and Oxfordshire County Council. The Housing 21 team was joined by representatives from Deeley Construction, Oxfordshire County Council and Vale of White Horse District Council, and Osbornes to celebrate the occasion.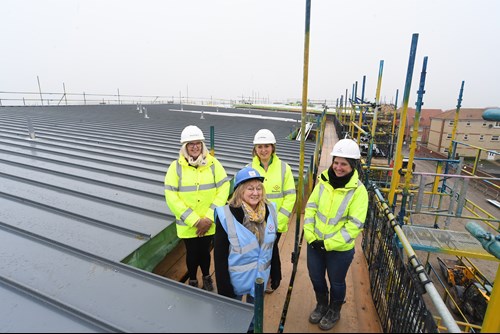 Poppy Meadows is Housing 21's first Extra Care scheme in Didcot and will provide much needed accommodation for local people over the age of 55. The development will offer 60 apartments available for social rent and a further 20 available for shared ownership. Poppy Meadows has been designed to promote independent living in a community setting, with a care team on-site 24/7 to deliver planned care packages if needed.
The new homes are being built in the Vale of White Horse district and are being supported with £2.4m funding from the Oxfordshire Housing and Growth Deal to help deliver affordable homes for the community.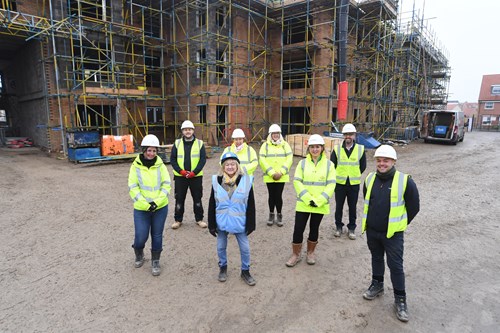 Image caption (L-R): Lisa Ord, Osbornes; Graham Hill, Deeley Construction; Judy Roberts, Vale of White Horse District Council; Fiona Clarke, Housing 21; Lorraine Jenner, Housing 21; Eleanor Deeley, Deeley Group; Steve Turner, Deeley Construction; Morgan Lewis, Housing 21.
Residents will benefit from a range of on-site facilities, including a café/bistro and hair salon, which are also accessible to visitors and the local community. There is also a residents' lounge, activity room, and communal gardens for residents and their guests to enjoy.
Debbie Hope, Head of Development at Housing 21 said: "We are delighted to reach this important milestone in the development of Poppy Meadows. The scheme will provide much needed affordable homes for older people, with on-site, tailored care and support packages available to help residents live independently. It will also provide space for residents to stay socially connected, safely."
Eleanor Deeley, Joint Managing Director of the Deeley Group, said: "It's fantastic to see the development hit this major milestone and to celebrate the great strides our on-site team have made over recent months.
"We have been working in partnership with Housing 21, Quattro and Osbornes on the Poppy Meadows development, and it is these strong partnerships that have enabled construction to progress on track despite current pressures and issues presented by the market and supply chain.
"Our team will continue to work with the local community in Didcot to minimise disruption to the local area on what is a logistically challenging site."
Cllr Judy Roberts, Cabinet Member for Development and Infrastructure at Vale of White Horse District Council, said: "I came along to the groundbreaking ceremony last year, so it is exciting to see the construction work completed so quickly, ready for the final phase to start.
"We are delighted we've been able to help bring new homes that people in our district need. These Extra Care homes are in the heart of the community on Great Western Park, giving residents their own independence while still being able to receive the day-to-day support they need."
Poppy Meadows is set to open in early 2023 and the scheme's show home will be open from late Summer 2022 Housing 21 is currently taking expressions of interest from those interested in buying or renting an apartment. Any enquiries should be directed to the New Home Team on newhome@housing21.org.uk or 0345 608 4021, Monday – Friday, 9am – 5pm.