An Extra Care development for people over the age of 55 on Peckham Chase in Eastergate is now complete.
A partnership between Housing 21, Arun District Council, West Sussex County Council and Highwood meant that work was able to safely continue over recent weeks to ensure this much needed development was ready on time for the community.
Named Monaveen, after the Queen's former racehorse that made its first winning appearance at nearby Fontwell Park in 1949, the new facility has been designed to promote independent living in a community setting. Residents will have access to 24/7 on-site care if required and there are a range of communal facilities for residents and visitors. A communal lounge, activity room, treatment room and communal gardens are located on-site, in addition to a hair salon and café/bistro. Communal areas of the scheme will be accessible to the public later this year in adherence with government guidelines.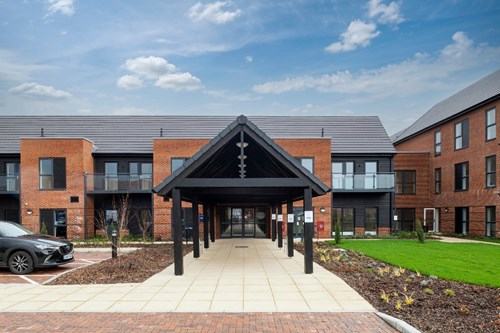 Monaveen is Housing 21's first Extra Care scheme in the Arun area and will provide much needed accommodation for local people over the age of 55. The development supported by Homes England, 60 one and two bedroom apartments for rent and shared ownership.
Carly Tucker, Housing and Care Manager at Monaveen said: "I am excited to be able to now start moving residents into our beautiful new extra care scheme set in the Arun area at Eastergate. We have faced challenges along the way, but no one could have predicted a global pandemic.
"I am so proud of our teams for ensuring building work could continue safely for those in need of a new home with good quality care and support. There's no denying this scheme was needed as we are opening with very few apartments left for rent. We can't wait to start getting everybody settled into their new homes."
Amanda Jupp, Cabinet Member for Adults and Health, said: "One of the key priorities for the County Council is to enable people to retain their independence in later life.
"The opening of Monaveen represents the financial investment we are making in Extra Care services, as well as a commitment to helping people enjoy life as part of their local community.
"We look forward to our continued partnership with Housing 21 and Arun District Council so that we can provide ongoing support to the new residents after they have moved into their new homes."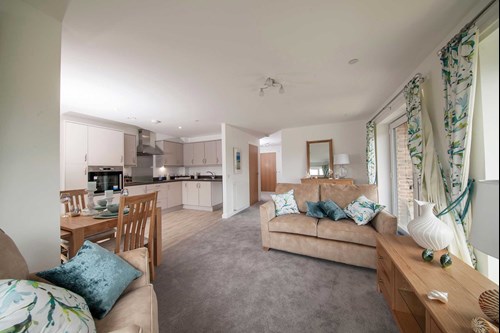 Arun District Council Cabinet Member for Residential Services, Cllr Pauline Gregory said: "We are delighted to see this project come to fruition. It is the result of a positive and productive working relationship between Arun District Council, West Sussex County Council and Housing 21. This partnership has enabled the delivery of high-quality housing for older people and the Monaveen development ensures there is now specialised provision in the west as well as the east of Arun District."
Steve Matthews, Managing Director of Highwood said: "When construction began on the project in late 2019 with a 78-week construction programme, we could never have foreseen what would lie ahead. Just a few months into the build programme, the Westergate scheme and all other sites were forced to shut down due to the impacts of the pandemic.
"We worked with the supply chain to agree and improve working practices to ensure compliance with the new guidelines and then reopened the site with all necessary safety measures in place to protect our workforce and supply chain. Despite the restrictions and as a direct result of the superb collaboration between the Highwood and Housing 21 project teams, we were able to ensure our delivery commitment would be maintained. Their performance in such difficult circumstances is to be commended."