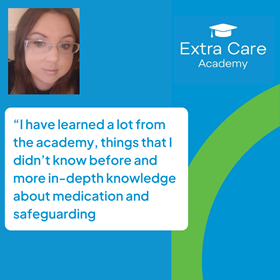 Housing 21's Extra Care Academy is officially at the halfway point as we approach one year since the industry-first training academy for Care Workers was launched.  
Care workers enrolled onto the two-year course will receive the training and qualifications required to pursue a career at management level in care.  
Kimberly has worked with Housing 21 as a Care Worker for five years; she joined the academy to increase her knowledge in care. Speaking about how the first year of the academy has gone so far, Kimberly said: "I have learned a lot from the academy, things that I didn't know before and more in-depth knowledge about medication and safeguarding. 
"I find the course interesting; I love the practical side of it, it is very hands on. There is a lot of reading to take in." 
Asked about her long-term career goals, Kimberly sees herself as an Assistant Housing Manager in five years' time. She said: "Completing the academy will help me to achieve my career aspirations; I have also applied for a level 3 NVQ in Care alongside the academy." 
Kimberly recently applied for an Assistant Housing Manager role which was advertised, and she received positive feedback from the panel, despite being unsuccessful.  
"I was told that once I complete the academy, I will be ready to be a manager. Alongside this, I was awarded Care Worker of the month at my Extra Care scheme, which has also given me a boost," she said.  
Speaking about the opportunity to develop her skills as part of the academy whilst working as a Care Worker, Kimberly said: "It is brilliant, I have the chance to learn more, refresh my knowledge in care, which enables me to help residents needs better. 
"The long-term benefit is that I can continue to do the job that I love, hopefully as an Assistant Care Manager or Local Housing Manager at a Housing 21 scheme."    
Find out more about the Extra Care Academy: Housing 21 - Extra Care Academy