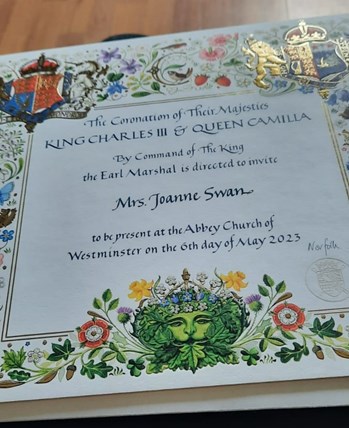 Pictured: Joanne's official invitation to the Coronation 
The excitement of the upcoming Coronation is in full swing at Priory Court in Gateshead, as Extra Care Manager Joanne has been invited to attend the event at Westminster Abbey.  
Joanne joined Housing 21 in 2014 as a Care Worker, and she is no stranger when it comes to the Royal Family. Last summer she attended the Queen's Garden party at Buckingham Palace where she was awarded the British Empire Medal for her commitment to her role during the Covid pandemic.  
In 2020, Joanne moved into the Extra Care scheme for two weeks to prevent the spread of the virus when colleagues across the scheme tested positive; she slept on an air bed and spent her birthday in isolation with the residents.  
After the two-week period, colleagues who had completed their period of self-isolation were able to return to work, and Joanne was reunited with her family. Recalling this memory, she said: "I would do it again in a heartbeat. At Housing 21, we all come together, not just through the good times, but also the difficulties we are faced with."  
Despite feeling nervous about attending the Coronation at Westminster Abbey on Saturday, Joanne is excited about representing Priory Court and Housing 21. She said: "This is a great opportunity to spotlight Housing 21 and care in a positive light, I love everything about my job and this recognition shows the commitment that employees across the organisation have for their residents and their schemes.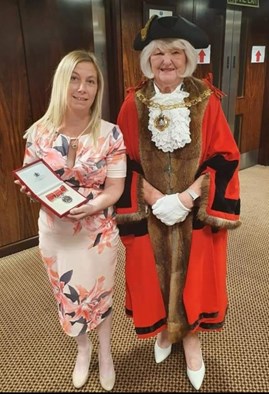 Pictured: Joanne receiving her British Empire Medal 
"I still haven't decided what I am going to wear; I have narrowed my options down to two dresses and I must remember to wear flat shoes because I will spend most of the morning on my feet. I must arrive at The Abbey for 7am, and I believe we will be seated by 8.30am. 
"I will try to take as many pictures as I can, especially as my son and daughter are upset that they cannot come with me, and my husband has to wait outside!" 
The Coronation of King Charles III will take place at Westminster Abbey on Saturday 6 May, the residents at Priory Court and Joanne's employees at the scheme plan to watch the event together on the day.