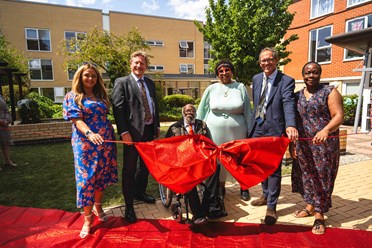 Pictured: Resident Alvin ahead of the ribbon cutting with representatives from Housing 21  
Residents and employees at Lime Tree House in Peckham hosted a re-launch event to coincide with the grand completion of a £1.7 million makeover project.  
Housing 21, purchased the scheme in 2019, and modernised the Extra Care scheme for it to meet the housing providers' property standards. 
The transformation for Lime Tree House included renovation of the entrance, communal areas including the lounge and dining area, and the garden.   
To mark the momentous event, residents and employees from across Housing 21 came together to celebrate, with live music and a buffet.   
A resident living at the Extra Care scheme, Vernon, said: "The refurbishment is great and has made a big difference. 
"The communal areas are so good, the garden, the lounge, and especially the entrance which is so beautiful. It is excellent, and the scheme feels more homely."  
Lime Tree House was purchased as part of an acquisition from Hyde Housing in 2019. 
Acquisitions form a key part of Housing 21's growth and commitment to providing high quality housing with support and care for older people of modest means. 
So far, 2023 has marked an incredible year of acquisitions for Housing 21. In February, 427 Extra Care properties were acquired from Notting Hill Genesis- the largest transfer of Extra Care in the sector in recent years.  
More recently, in June, Housing 21's portfolio increased by 445 properties from Clarion, with 11 schemes from across London, East Anglia and South East. 
This further solidifies Housing 21's position in the market and demonstrates its commitment to meeting the housing needs of older people.    
In conjunction with its acquisition plans, Housing 21 continues to prioritise investment into existing homes while also delivering on its development plans to provide up to 400 new homes for older people each year. 
Lime Tree House consists of 54 social rented properties, with on-site care provided to residents who need it. Find out more on the website: Housing 21 - Lime Tree House