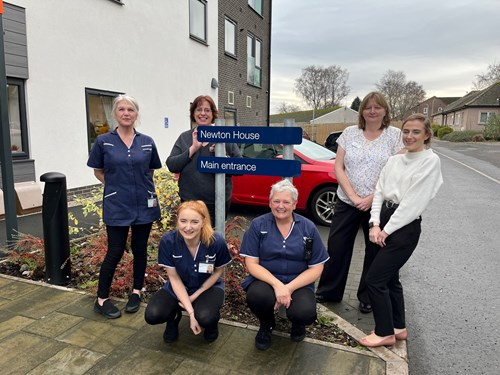 Pictured: L-R back row: Care Worker Louisa, Housing and Care Manager Karen, Assistant Care Manager, Judi and Care Admin, T. Front: Care Workers Harley and Trish  
The "supportive attitude" of employees at Housing 21's Extra Care scheme in Penrith has been recognised by inspectors during their official inspection. 
In November this year, inspectors from the Care Quality Commission (CQC) visited Newton House and recorded an overall grading of 'Good' – one rating below 'Outstanding'. 
The report praised the provision of care provided, stating: "Staff were friendly and engaging. People's continuing independence was encouraged and promoted, and some people were supported to regain skills they had previously lost.

The report also stated that "people said they got on well with the staff and staff knew how to support each person in the way they preferred. The service was run in the best interests of the people who used it.  
Pearl, who is a resident at Newton House shared her experience living at the Housing 21 scheme: "I think it is excellent, I can't fault the way I have been looked after by everyone here.  
"Everyone here loves their jobs, it shines through." 
Newton House is just one of over 22,200 Housing 21 schemes which offers independent living, with access to on-site care for people over the age of 55. The Extra Care scheme offers one- and two-bedroom apartments for rent and shared ownership. 
Karen Woolton, Housing and Care Manager at Newton House said: "We are pleased with the services we provide at Newton House and very happy that our recent CQC rating reflects this.  
"The team here take pride in ensuring that our residents are happy and well looked after. Newton House is a great place to work and a great place for the residents to live. 
"We are all really happy with our CQC rating." 
Newton House has been designed to provide fully accessible facilities for residents, visitors and the local community. These include a hair salon, residents' lounge, activity room and communal garden 
To find out more, visit the website: Housing 21 - Newton House