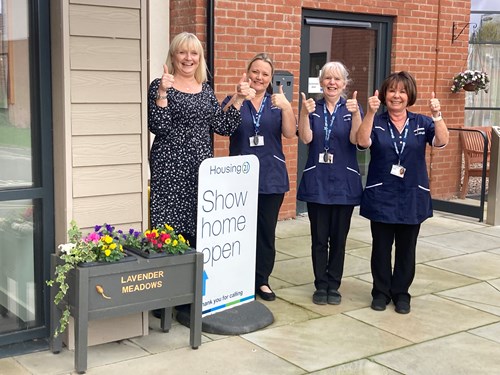 Pictured: L-R: Zoe Hopkins (Housing Care Manager) Becky Cooper (Assistant Care Manager) Jackie Everingham (Care Worker) Kim Jones (Care Worker)
The "caring attitude" of employees at Housing 21's latest Extra Care scheme in Stratford-upon-Avon has been noted by inspectors during their first official inspection.
In September this year, inspectors from the Care Quality Commission visited Lavender Meadows and recorded an overall grading of 'Good' – one rating below 'Outstanding'.
The report praised the provision of care provided, stating "people were positive about the caring attitude of the staff team and staff understood the importance of developing relationships with people and promoting equality and diversity".                                                   
The report also stated that "people and relatives spoke highly of the management team and staff felt valued and supported. A system of audits and checks ensured regulations were met and the quality of the service maintained. There was culture of sharing learning to improve outcomes for people".
Lavender Meadows is just one of over 22,200 Housing 21 schemes which offers independent living, with access to on-site care for people over the age of 55.
Zoe Hopkins, Housing and Care Manager at Lavender Meadows said: "We are pleased with the outcome of our first CQC visit at Lavender Meadows.
"The team here take pride in ensuring that our residents are happy, and they are well looked after. We are very happy with the rating we received from CQC and this is a great place to live and work. Our employees and residents really enjoy their time here."
The scheme which includes a café/bistro and hair salon for use by the community, also has a residents' lounge and communal gardens for residents- pets are welcome to move in too.
Martin one of the residents at the scheme, said: "I have been at Lavender Meadows for 12 months now. I would like to extend my gratitude to both the Management Team and the Care Workers here.
"I would like to thank the Management Team for all their kind assistance and support, both with getting me settled, but also the continuous help to ensure everything is in place for me to be worry free and enjoy my time here.
"I would also like to thank the dedicated Care Team for all their help, co-operation and continued support which has been second to none and has never deviated. For which I am eternally grateful."
Can you imagine yourself living or working at a stylish Extra Care scheme in Stratford-Upon-Avon? Lavender Meadows is currently recruiting for Care Workers.
Care Workers employed by Housing 21 receive benefits in line with corporate employees, including occupational sick pay, holiday pay and maternity/ paternity pay.
Other benefits currently offered include the Blue Light Discount, which provides access to over 15,000 discounts across retailers, saving money on holidays, cars, days out and many more.
In October this year, Housing 21 employees received a four percent pay rise to help with the increased cost of living.
To find out more about Care Worker recruitment and to apply, visit the website: Housing 21 - Lavender Meadows - Care Worker
To find out more living at Lavender Meadows, visit the scheme's page: Housing 21 - Lavender Meadows