Four Extra Care schemes at Housing 21 have been praised for delivering a 'gold' standard of care to residents as they near the end of their lives.  
Dairy View Court in Royal Wootton Bassett, Knaves Court in Walsall, Applegarth Court in Bridlington and Limestone View in Settle have each been awarded the national Gold Standards Framework (GSF) Quality Hallmark Award for their end-of-life care.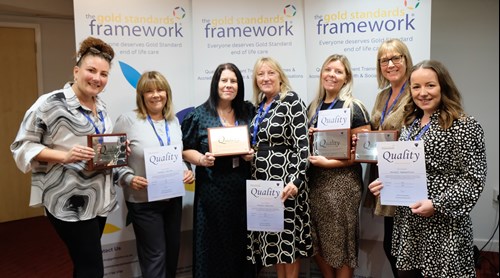 Pictured: the teams from Dairy View Court, Knaves Court, Applegarth Court and Limestone View 
Gold Standards Framework's Quality Hallmark Award for end-of-life care recognises exceptional care for both residents, and their families, and is the highest accreditation awarded for end-of-life care.  
To achieve the accreditation, each scheme took part in a 12-month training programme and were required to present a portfolio of evidence to demonstrate they had embedded what they learned into their everyday practice.  
Kris Peach, Executive Director of Extra Care, said: "I'm delighted that our teams at four Extra Care schemes have been recognised with this award. It is incredibly important that our residents can live well and die with dignity, in the place of their choosing.  
"I know how hard everyone in the services has worked to embed practices to support residents at end of life, and the accreditation is a testament to their efforts."  
The teams were presented with their awards at a special ceremony in Manchester.  
Gold Standards Framework is the UK's leading training provider in the health and social care sector, helping care teams deliver personalised, quality care so that people can live well until they die.