Residents and guests enjoyed a fun-filled summer party at Lavender Meadows in Bishopton, Stratford-upon-Avon on Saturday, with prospective residents getting an opportunity to discover the lifestyle on offer at the popular Extra Care scheme.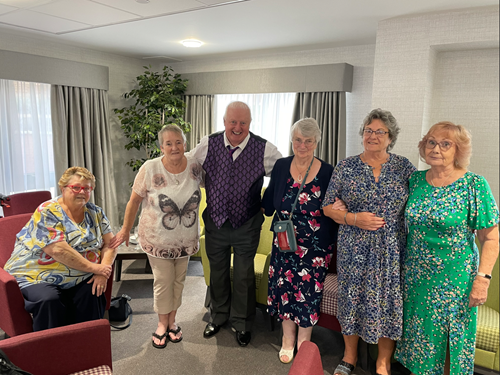 Pictured: Graham Powell (centre) with residents at Lavender Meadows
Residents and their families gathered at Lavender Meadows for a fun-filled day which included live music and entertainment from local entertainer, Graham Powell. Graham has thrilled audiences worldwide for over fifty years with his remarkable singing voice and unrivalled humour which certainly amused everybody in attendance at the party. 
Complimentary refreshments were provided by the operator of the dedicated on-site café/bistro Phoenix Hospitality, who continue to serve residents a selection of meals and light bites at the scheme daily.  
Having opened in August 2021, Lavender Meadows allows residents over the age of 55 to live independently in a spacious two-bedroom apartment and enjoy access to communal areas for socialising with like-minded residents.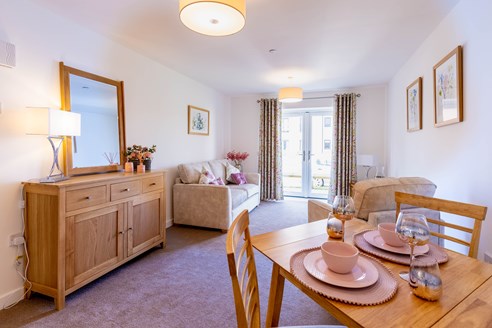 Pictured: The Lavender Meadows show apartment
As well as boasting a communal lounge and landscaped gardens, the Extra Care scheme also has an on-site café/bistro and hair salon which are available for use by the local community.   
Jason Maylin, National New Homes Manager, said: "It's been great to see the residents settle in nicely over recent months at Lavender Meadows, the scheme enables them to live independently in a beautiful community setting. The apartments provide a safe, comfortable environment for our residents to live well within. There are a limited selection of apartments remaining so we'd love to invite the locals of Bishopton to view their potential new home." 
A dedicated on-site Housing and Care Manager, Zoe Hopkins is available to assist residents with any concerns or queries, including repairs, benefit claims or suggestions for events. Zoe is supported by a Care Team who assist with any planned or emergency care needs. 
There are a selection of two-bedroom shared ownership apartments that are ready to move in today. To find out more, call 07725 247 474 or email info.lavendermeadows@housing21.org.uk.