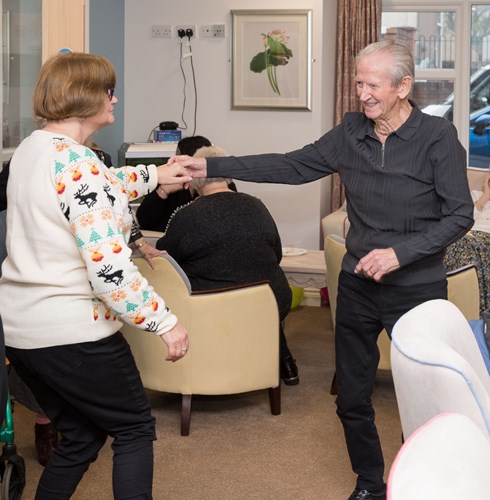 Pictured: Relative of a resident, Sarah, with Falcon Court resident Donald

Celebrations were in full swing at Falcon Court in Kingswood, Bristol last week, to mark the momentous 10-year anniversary of Housing 21's Extra Care scheme.
Residents and employees came together to party in style, celebrating the scheme which opened its doors to residents in 2012. 
Housing 21 is a not-for-profit, leading national provider of Extra Care and Retirement Living for older people of modest means. 
Resident Joe and his wife were amongst the first to move to Falcon Court when it first opened in 2012.
Joe's wife has since passed away, but he recalled some fond memories of their time together at the Housing 21 Extra Care scheme: "It was my wife's idea to move in and we never looked back, we both felt safe and comfortable, we enjoyed meeting the new residents as they moved in. 
"Extra Care gave me the opportunity to support my wife with the wonderful care we received." 
Guests at the party included current residents and employees, as well as Bruce Moore, Chief Executive of Housing 21.  
A musician and hired singer provided entertainment where everyone enjoyed some great food, and of course a celebration is incomplete without a cake. 
Lisa Vyner, Housing Manager at Falcon Court said: "I joined Falcon Court a year after it opened, and I have been here ever since, I love working here and spending time with the residents.  
"We have worked hard to develop Falcon Court to be a vibrant Extra Care facility. The celebration for our 10-year anniversary was a great event, everyone really enjoyed themselves."  
To find out more about Falcon Court, visit: Housing 21 - Falcon Court