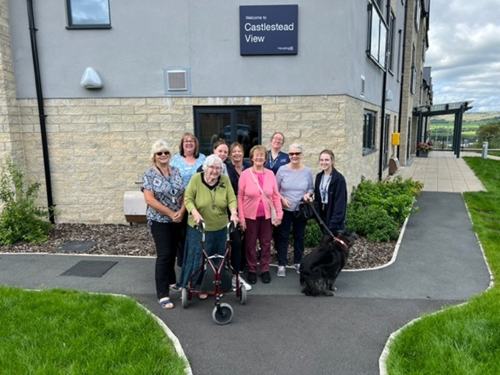 Pictured: The Care Team at Castlestead View with residents 
There is excitement across Castlestead View in Oxenholme as the Extra Care scheme received its first inspection from The Care Quality Commission.  
The Housing 21 scheme received an overall rating of 'Good' from inspectors when they visited in July this year.  
Susan Blaylock, Housing and Care Manager at Castlestead View, said: "Everyone at the scheme is very happy that we have received a 'Good' rating in our first CQC inspection.
"We have had an exceptional year since we opened our doors to residents in September 2022, and we remain dedicated to providing high quality care to all our residents.
"The Care Team should be proud of their achievements over this last year, and the feedback from the Care Quality Commission echoes these sentiments." 
The care provided to residents was praised in the final report, as were the policies and procedures in place to support the Care Team and residents.  
"People were supported to have maximum choice and control of their lives and staff supported them in the least restrictive way possible and in their best interests," said the report. 
"The policies and systems in the service supported this practice."  
Inspectors highlighted the positive culture of the Care Team, with team morale and job satisfaction playing a significant factor in the quality of the service delivered. The report stated:  
"There was a positive culture at the service; people spoke highly about the managers and staff told us they really enjoyed their jobs. 
"There was regular oversight and monitoring of the safety and quality of the service." 
Extra Care offers independent living with access to on-site care for residents who require it. Castlestead View offers bungalows for outright sale, and one and two-bedroom apartments for rent or shared ownership.  
Castlestead View has been designed to provide fully accessible facilities for residents and visitors, including a café/bistro and hair salon for the community to use. There is also a residents' lounge, activity room and communal gardens for residents and their guests to enjoy. Find out more on the website: Housing 21 - Castlestead View.