A 97 year old great grandmother of seven has moved into a safer home at Strawberry Gardens in Yatton.
The new Extra Care Living scheme on Moorhen Road was developed by Housing 21 and North Somerset Council to help provide independent living with access to on-site care for people over the age of 55.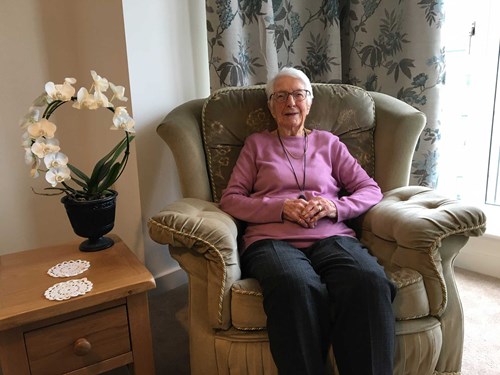 Betty has now moved into her new apartment at the scheme after living alone in a four bedroom cottage following the death of her husband 17 years ago. Betty, who is partially sighted and hard of hearing,  had recently begun to experience knocks and falls around her home, and this was taking a toll on her physical health and causing concern for her family.
Betty's daughter, Jean, knew that her mother's vulnerability and lack of formal care put her at risk. Over the last year, Jean and her husband provided daily contact as part of Betty's support bubble however the remaining hours of the day spent apart put additional stress on the family.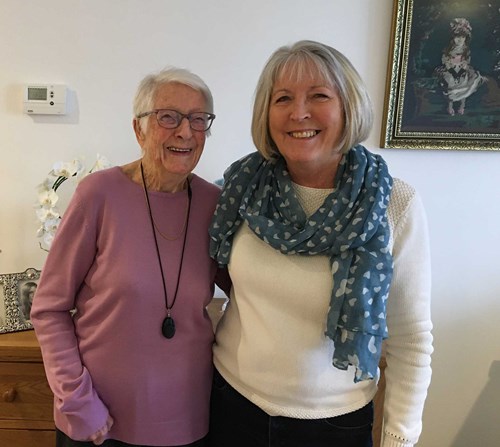 Betty with her daughter Jean
"This is the best decision I have made. I really couldn't have moved anywhere better." - Betty
Jean also commented: "We notice how happy mum is in Strawberry Gardens and how her confidence is growing as she becomes more familiar with the environment which is, of course, quite a challenge with restricted eyesight.
"Within a week of moving in she was out and about, having socially distanced chats with others in the communal lounge and having regular exercise by being able to safely stroll the spacious corridors with her walker.
"The staff have helped mum to settle in far more quickly than I had anticipated and we are now able to enjoy time as a family again in our support bubble - rather than worry about housework and whether she will be ok when we are not around. It puts us all at ease knowing she has a safe place to live again.
"Mum is looking forward to visits from her granddaughters and their families as soon as restrictions are eased. In the meantime they are making do with lots of video calls!"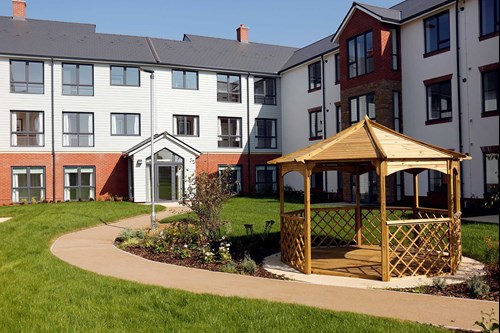 Outside Strawberry Gardens
Housing 21 has continued to move in new residents safely during the pandemic. The organisation has introduced a number of measures to help ensure move-ins are managed on allocated days to minimize the number of people walking around the schemes at the same time. It is also ensuring that all removal companies provide COVID-19 method statements and has enhanced cleaning measures in place for the cleaning of surfaces and key touch points such as bannisters, lift buttons and handles.
For more information, visit the Strawberry Gardens page.