A ground-breaking ceremony has marked the start of construction for a new development of affordable bungalows for over 55s.

Housing 21 met with representatives to officially launch the start of work on the bungalows adjacent to the existing Fry Court Extra Care living scheme.
The new extension is being developed by Housing 21, a leading not-for-profit provider of Retirement Living and Extra Care for older people of modest means. This development is being built by Tolent and has received funding from Homes England.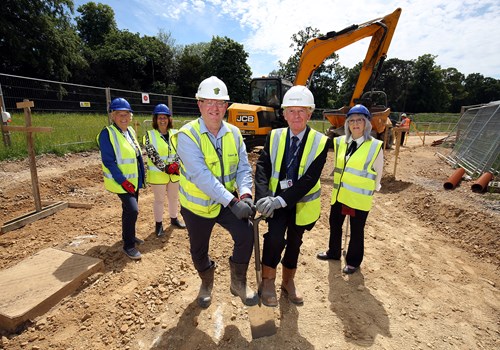 Image caption (L-R): Cllr Margaret Atkinson – Chairman of North Yorkshire County Council, Cllr Heather Moorhouse – District of Great Ayton, Adrian Veitch – Tolent's Operations Manager, Paul Crosland – Housing 21's Construction Project Manager and Cllr Caroline Dickinson – Older Person's Champion.
This Extra Care extension will provide 15 two-bedroom bungalows for local people over the age of 55. There will be four properties available for social rent and 11 to buy through shared ownership.

Deborah Hope, Head of Development at Housing 21, said: "We are delighted to be working in partnership with North Yorkshire Council to provide an extension to our latest Extra Care Living Scheme in Great Ayton, Fry Court. This new development will provide much needed, high-quality accommodation to support local older people and their changing needs. It will also provide space for residents to stay safely socially connected."

Fry Court Bungalows has been designed to promote independent living in a community setting. There is an existing care team on-site 24/7 at Fry Court to deliver planned care packages to bungalow residents if and when needed.

Each bungalow will be accompanied with a dedicated parking space and will have patio doors which lead out to a private garden. Residents will benefit from a range of facilities already open at Fry Court, including a café/bistro and hair salon, which are already accessible to visitors and the local community.

The bungalows, located off Newton Road, are set for completion in Spring 2023. The first residents are expected to move into their new homes in April 2023.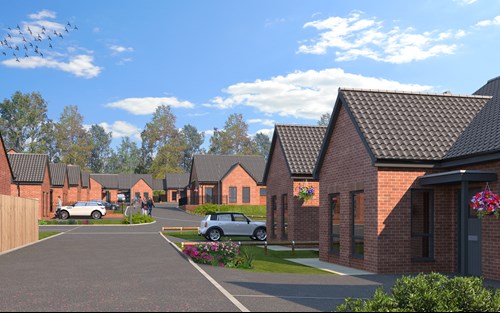 CGI image of Fry Court Bungalows
Cllr Michael Harrison, North Yorkshire County Council's executive member for Adult Services and Health Integration, said: "Extra Care is a valuable asset for communities across North Yorkshire and this development will be a welcome addition at Great Ayton. Housing 21 is a provider with a great track record in North Yorkshire and their developments provide safe and secure accommodation while allowing the independence many people want to maintain."

Chris Price, Divisional Director at Tolent said: "It's great to be back at Great Ayton, following the construction of Fry Court back in 2020 and another project in partnership with Housing 21. The two projects are a great example of the breadth of capabilities in the sector. Works are progressing well on site with drainage and roads expected to be completed in the next few weeks, which will allow for the construction to commence on the units themselves when the site will really start to take shape."