The UK's first housing provider to commit to a digital-only telecare system has had its innovation recognised with an accolade at this year's Health Investor Senior Awards.
Housing 21, a leading not-for-profit provider of Retirement and Extra Care Living for people over the age of 55, and Appello, a Technology Enabled Care (TEC) provider, jointly won the Best Use of Technology in Senior's Housing Award.
Appello was first installed in a Housing 21 scheme in Durham in 2016 and has since been expanded to be incorporated in 260 of Housing 21's 450 sites, with a commitment to upgrade 90 percent of all properties by 2023.
The award recognised how the installation of the Appello system in Housing 21's properties had demonstrated innovation and excellence across the housing sector by providing a vital means of communication during the Covid-19 pandemic.
The system reduces connection times to emergency monitoring response services whilst offering a range of wellbeing services including video/voice calling between residents and employees as well as video door entry for added security.
David Mayes, Property Improvement Manager at Housing 21, said: "Long before the pandemic hit, we recognised the importance of investing in digital telecare systems to provide the best possible service for our residents and this couldn't have proved to be more valuable during Covid-19. The Appello system enabled residents to continue communicating with us – and each other – during the lockdown and ensure that despite the restrictions, nobody felt isolated or was at additional risk.
"Our introduction of digital TEC services has not only focused on improving the safety and wellbeing of residents, but also supporting our teams in their roles. An 'I'm OK' feature enables residents to notify staff if they need a visit/call that day. This provides teams with more knowledge, which enables them to prioritise their time, and not disturb residents unnecessarily, creating better engagement and communication with them."
Through implementing digital technology, nine out of 10 Housing 21 residents have said they felt safer and during Covid-19. There was a 192 percent increase in the use of video calling.
The system also enabled more than 100 Housing 21 employees who were working remotely to continue communicating with their residents and update personal and health information which is used by the emergency services.
Iain Hockings, Head of Marketing at Appello, said: "Housing 21 deserved recognition for how they have led the housing sector by example – embracing digital technology and at scale. Where others may have struggled during the last 18 months, the residents and employees of Housing 21 have been able to further realise the benefits of an ongoing investment in digital technology – creating safer, more social environments that support some of the most vulnerable in our communities today and tomorrow."
The Health Investor Seniors' Housing Awards 2021 took place in London and was open to any company operating, investing or advising in senior housing.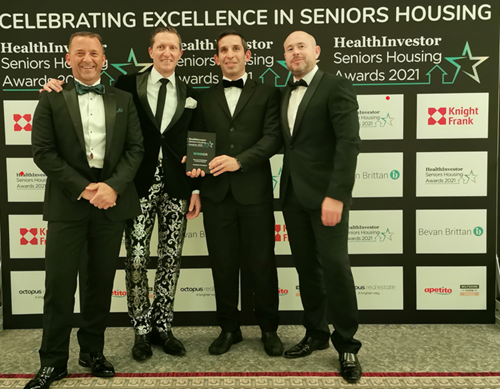 (L-R) David Wood, Business Development Manager at Appello, Tim Barclay, CEO at Appello, David Mayes, Property Improvement Manager at H21, Gareth Bracher, Account Manager at Appello.