Care Worker Pat Davis has been nominated for the Carer Award as part of BBC Radio Nottingham's Make a Difference Awards.
Pat has worked at Seagrave Court in Nottingham for 18 years and is a valued member of the Housing 21 team, a leading National provider of Extra Care and Retirement Living for older people of modest means.
Pat was nominated by the daughter of one of the residents that she looked after, who noticed that her mother's eyes would light up when Pat entered the room.
Recalling the moment when she was told about the nomination, Pat said, "I was in complete shock when I found out, at first, I thought that it was a hoax.
"I was just doing my job; I didn't expect to be nominated for this award. I really enjoy working at Seagrave Court, my highlight of my working days is sitting and talking with the residents.
"I love listening to the residents' stories and hearing what they have to say whilst spending time with them"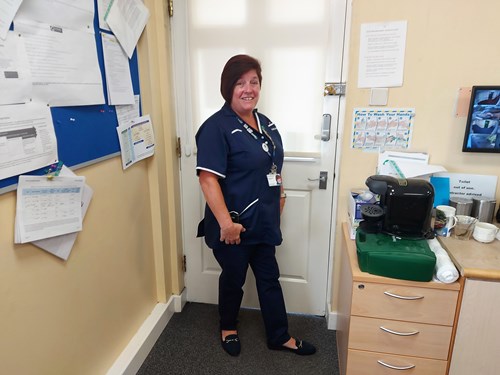 Pictured: Pat Davis at Seagrave Court
The BBC Radio Make a Difference Awards are a chance for local people to show recognition and appreciation for those who make life better for others
Billie Fryer Scheme Manager at Seagrave Court said: "Pat is a Care Worker because she likes to care, this is her ethos.
"She treats people how she would like to be treated herself, I'm so proud of Pat for receiving this well-deserved nomination and I'm very proud of the care and support provided by all staff at Seagrave Court."
The awards ceremony will be held at The Nottingham Contemporary on 21 September.
Seagrave Court is an Extra Care Court, offering independent living in contemporary apartments, with care and support on site and access to a range of quality communal facilities.