Housing 21 employee scoops Carer of the Year at BBC Radio Nottingham Awards.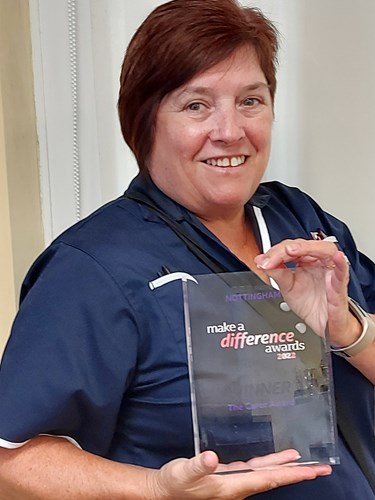 Pictured: Pat Davis, Care Worker at Seagrave Court
Celebrations are in full swing at Seagrave Court in Nottingham as Care Worker Pat Davis was awarded Carer of the Year in BBC Radio Nottingham's Make a Difference Awards.  
Pat, who has worked at the Housing 21 Extra Care Scheme for 18 years, was nominated by the daughter of one of the residents, who noticed that her mother's eyes would light up when Pat entered the room. 
Pat was on holiday at the time of the ceremony so Billie Fryer, Scheme Manager at Seagrave Court and Sian who nominated Pat, represented her.  
Speaking about her award, Pat said: "I am extremely honoured to receive this award. I was completely shocked when my manager Billie Fryer informed me that I had been nominated.  
I love being a Care Worker at Seagrave Court. My role is to look after and support the residents and to help them live as independently as possible and I really appreciate being recognised for the work that I do. 
The team at Seagrave Court are brilliant, we all deserve this award."  
In other exciting news, the leading national provider of Extra Care and Retirement Living for older people of modest means is in the running for another prestigious award after being shortlisted as Care Employer of the Year in The Caring UK Awards.  
The Caring UK Awards recognise excellence and achievement within the care sector across the UK.  
The winners will be revealed at a ceremony in Leicester on Thursday December 1. 
Housing 21 manage over 20,000 properties, providing over 38,000 hours of social care each week and is also shortlisted for IIP Employer of the Year and Best older people's landlord in the UK Housing Awards. 
Find out more about Housing 21 current shortlisting here: Housing 21 - Housing 21 - Our awards