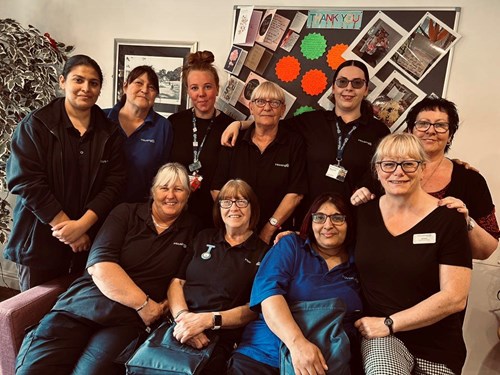 Pictured: employees from Marigold Court
Housing 21's Extra Care scheme, Marigold Court has been recognised to a have a 'positive, supportive culture providing person-centred care' by inspectors.
Following a visit from the Care Quality Commission (CQC), Marigold Court has received an overall rating of 'Good' – one rating below 'Outstanding'. The report commended Housing 21 employees and describes them as 'very caring'. The report goes on to say, 'Residents were supported to maintain their independence and were treated with dignity and respect'.
One of the residents of Marigold Court said, "Care Workers take the time to listen to me even though it takes me a really long time to say anything."
Linda Burge, Housing and Care Manager at Marigold Court said: "We are pleased with our CQC rating, we feel the services provided at Marigold Court echoes this.
"We have an amazing team who strive to make it a great place for residents to live, putting residents at the centre of everything we do."
Marigold Court is just one of over 22,000 Housing 21 schemes which offers independent living with access to on-site care for people over the age of 55. Marigold Court is located in Gateshead and offers one-, two- and three-bedroom properties.
The scheme is close to Newcastle city centre and offers a range of amenities and care facilities on-site, such as a restaurant, hair salon and even has extensive landscaped gardens, including a sensory garden.