Employees from Housing 21 have come together to raise money for their friend and colleague who is undergoing chemotherapy.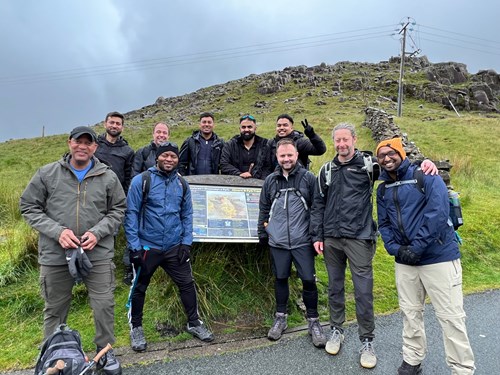 Pictured: Housing 21 employees at Mount Snowdon
The team has raised over £3,000 by fundraising through several events which included Financial Accountant Liz Perkins taking part in the Edinburgh Marathon in May and the Finance Team climbing Mount Snowdon in June.
Completing the hike in just under seven hours, the team smashed its original fundraising target of raising £2,000 which was achieved much sooner than anticipated.
Amarjit Chand, Head of Commercial Finance, said: "Hiking Snowdon is far from an easy thing to do and I was proud how determined and resilient the team were in getting up and down the mountain.
"Everyone at Housing 21 looks out for each other and this reflects the characteristics of the organisation.
"Thank you to everyone who has donated - it will help the cause to find more effective treatments and will make a difference to countless lives in the future.
The team chose to support Cancer Research UK, the world's largest independent cancer research organisation, for our colleague who is currently undergoing chemotherapy with unbelievable courage and determination, he is an inspiration to everyone at Housing 21."
Liz Perkins, Financial Accountant, said: "I spend a lot of my time running so it seemed a good idea to do something I love doing to support a friend and raise money for cancer. 
I had support from the whole of the Finance Team with encouragement before, and many donations which kept me going on the day. Thanks to all those who donated."
Donations can still be made on the team's Just Giving page here.