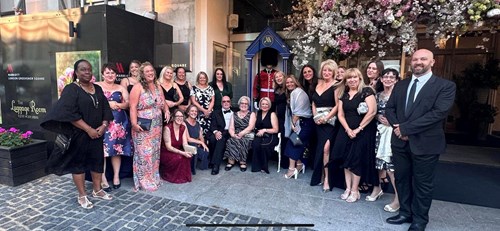 The celebrations continued over the weekend as Housing 21 employees scooped four awards at the Housing with Care Awards on Friday 9 June.  
The ceremony took place at the London Marriott in Grosvenor Square where employees from across the organisation received nominations from their peers across 19 categories.  
The inaugural awards were conducted by Care Talk magazine to recognise and celebrate excellence in accommodation and services for retirement integrated communities.  
Housing 21 was named as the winner in the following categories:  
The Housing with Care Employer Award where judges praised the clear vision for all residents and the commitment to career growth. They were particularly impressed with the Extra Care Academy as a tool to develop teams, support retention and make Housing 21 a great place to work. 
The Housing with Care Apprentice Award: Care Worker Donna from Knaves Court was recognised for her enthusiasm and compassion, as well as being kind and excited to learn.  
The Team Leader Award: Assistant Care Manager at Goldfield Court, Jacqueline was commended for her open and transparent approach and ability to get things done, the judges said: "she keeps a person-centric approach at the heart of her work and is an exceptional leader." 
The Chef of the Year Award: Chef Lisa at Knaves Court was praised for ensuring residents have balanced and nutritious meals with a variety of options. The judges said: "It's really apparent that she cares for the people living within the scheme, as she regularly organises various events to add fun to mealtimes and creates a fantastic atmosphere." 
Kris Peach, Executive Director of Extra Care at Housing 21 was highly commended for his efforts and long-term commitment to the social care sector in the Lifetime Achievement Award.  
Reflecting on the awards ceremony and the significance of the shortlists as well as the wins, Kris said: "The first ever Housing and Care awards was a fabulous opportunity for providers to recognise the great achievements of employees going above and beyond. 
"I am so very proud of everyone that received a nomination, this is a great achievement, and all the finalists should be incredibly proud of themselves. I am thrilled for our four winners; these award wins are a testament to the many amazing people at Housing 21 that do such a fabulous job for our residents." 
To see the full list of winners, visit the website: Winners of the inaugural Housing With Care Awards announced – The National Housing with Care Awards