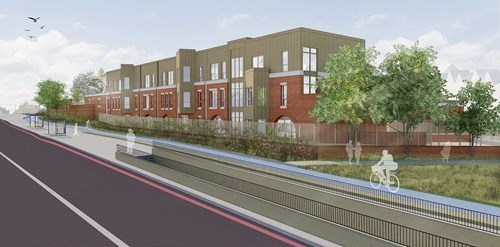 Pictured: CGI of the exterior of the scheme 
Birmingham is set to experience a breakthrough in housing provision as land is secured for Housing 21's first cohousing community in Lozells.  
Housing 21 has purchased land on Chainwalk in Lozells and will work with future residents to transform the derelict site into 25 one- and two-bedroom apartments which will be available for social rent. 
Unlike other developments, the cohousing project will focus on creating an integrated community by involving residents in the design and layout of the site to ensure a purpose-built scheme that will encourage social interaction and wellbeing. 
Tony Tench, Deputy Chief Executive at Housing 21, said: "We are delighted to be working with the local community and our partners Legacy West Midlands to develop a cohousing scheme in Lozells that will set new standards of housing for older people of modest means in diverse urban settings.  
We have worked closely with potential future residents to ensure the design of the properties, communal spaces and landscaping meets their requirements; and residents will also be determining what services and activities will be provided and by whom.   
Our hope is to do more than just construct a building; it's about creating a community of older people that offers mutual support." 
Housing 21 first began consulting with the local community in February 2020 before completing the purchase of the land from Birmingham City Council over the summer.  
The housing provider worked in partnership with local people from Lozells at the very early stages, as well as Birmingham City Council and local charity, Legacy West Midlands who supported Housing 21 to develop links and build relationships with a group of local people who are interested in being part of the new cohousing community.    
Cohousing promotes the benefits of living as part of a community, which helps wellbeing and tackles social isolation. Residents involved in the consultations have come together to share their vision for a cohousing community and helped bring this to life with their input on a shared kitchen and outdoor area for gardening.  
The scheme will support older people to continue to live independently in Lozells, without the need to move away in search of suitable housing.  
Lucy Hales, Head of Cohousing at Housing 21 said: "Housing 21 is very excited to start the construction of our very first cohousing scheme in the Lozells area of Birmingham.   
"This has been made possible with the help of Birmingham City Council, and Legacy West Midlands, as well as the local residents who have shaped the design of the building and who will be shaping how the scheme will be managed."      
Work on the site is scheduled to commence in Autumn 2023, with a completion date of Spring 2025.  
In addition to the 25 apartments, the scheme will also include a residents' lounge, a mulit-faith room, landscaped communal garden and an allotment area for residents to grow their own vegetables. 
There will also be a common house area with a kitchen and open space, where the community can come together to cook and eat, as well as space for activities. 
A second cohousing site is planned for Smith Street in Birmingham's Jewellery Quarter.