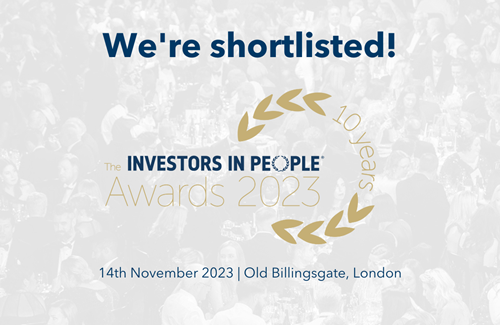 Housing 21 has been shortlisted for an Investors in People Award for Best Flexible Working Policy. The award aims to celebrate the top organisations succeeding in people management, wellbeing and apprenticeships. 
It continues a run of awards recognition for Housing 21, having recently won Client of Year at the Offsite Construction Awards for the Patent House and Patent Walk development in Doncaster: Housing 21 - Trailblazing Retirement Living scheme scoops top award, and been named as a finalist for 'Best Older People's Landlord' in the Affordable Housing Awards. 
Flexible working policies at Housing 21 have previously been shortlisted in the Employee Benefits Awards and the Global Good Awards. 
Housing 21 developed an Employee Wellbeing Strategy in 2022 to make sure that employee satisfaction is prioritised at the organisation. The strategy has plans for the next three to five years to make sure employee wellbeing is central to Housing 21's focus.  
Most office-based employees now work remotely, giving them the advantages of reduced travel times, flexible hours and a better work life balance, creating a more positive work environment. 
In addition,, Housing 21 has introduced a nine-day fortnight, which allows employees on salaried roles to have the option to spread their working hours over nine days instead of 10. In a recent survey that was conducted, 73% of employees who have made the change reported increased job satisfaction and 52% agreed it had improved performance and effectiveness in their role.  
The Flexible Working Policy means that employees can take advantage of various flexible working options, including a career break, job-share, adapt shift patterns or hours, term time working or take unpaid leave to manage other commitments. Housing 21 also offers a Holiday Trade scheme, so employees can purchase up to two weeks' additional leave or sell back up to one week. 
Ian Hodson, Director of People and Culture at Housing 21, said: "We're so pleased that we've been recognised for our Flexible Working Policy. We truly believe that if our employees feel valued, heard and appreciated, they'll be better equipped to be able to continue to do such amazing and important work with our residents." 
"We've worked closely with our employees to understand  what a positive work-life balance looks like for them" ." 
Ian added: "The happiness and satisfaction of our employees is central to everything we do here at Housing 21 and we continue to reflect, learn and adapt our policies to reflect our employees' needs". 
The winner of the award will be announced at a ceremony in London on 14 November. 
The full shortlist can be found on the website:  The Investors in People Awards 2023 - Investors in People