Sally-Ann Hart MP visited Housing 21 Retirement Living property, Farren Court, in East Sussex last week.
The local MP for Hastings and Rye spent time speaking with residents and employees following an invitation by Housing 21, which owns and operates the scheme as part of a portfolio of Retirement Living and Extra Care properties across England.
Speaking about her time at Farren Court, Sally-Ann Hart said, "I thoroughly enjoyed my visit and was delighted to meet so many of the residents and answer their questions. What a wonderful place Farren Court is with their kind and dedicated team."
Sally–Ann spent time with the residents who enjoyed asking her questions, and she was given a tour of the court by the Court Manager Marc Golby.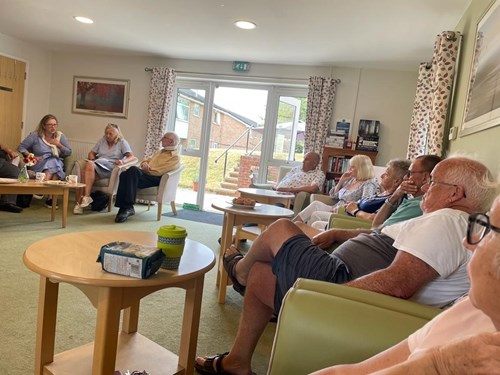 Image caption: MP Sally-Ann Hart with residents at Farren Court
Sarah Davies, Regional Operations Manager for Housing 21, said: "The residents had some good questions which Sally Ann was happy to answer. The meeting was a positive one with everyone taking part in the conversation. We talked about the history of Housing 21 and our new strategy which Sally Ann was very impressed with"
Farren Court is a small and popular Retirement Living scheme in the seaside town of St Leonards on Sea, East Sussex. With 28 Flats set within seven separate blocks, residents benefit from open space and gardens with a peaceful, warm and friendly community atmosphere.