Housing 21's fourth Outstanding Extra Care scheme – this time in Sunderland!
A Sunderland Extra Care court for people over the age of 55 has been rated 'Outstanding' by the Care Quality Commission (CQC) following an inspection which took place in July. Dovecote Meadow on Fordfield Road, operated by Housing 21, is now in the country's two percent of care facilities for older people to be considered 'Outstanding' by the independent regulator of health and adult social care in England.
The news follows Housing 21's first three services to achieve 'Outstanding' this year, which are located in the West Midlands and the South West of England.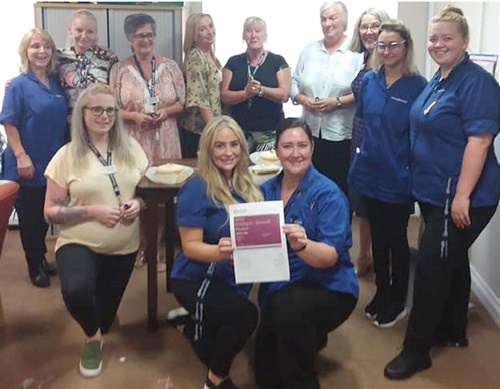 Dovecote Meadow is one of Housing 21's Extra Care Living courts, which provides private and secure apartments with access to on-site care for those who need it. The court has a dedicated Housing and Care Manager and an on-site care team which is available 24/7.
The inspection considers five key questions; 'is the service safe?', 'is the service effective?', 'is the service caring?', 'is the service responsive?' and 'is the service well-led?' The report shows Dovecote Meadow to be 'Outstanding' overall, whilst highlighting the court's key strengths in care and leadership.
An inspector from CQC said: "Staff were highly skilled and knowledgeable about each person they cared for and they were extremely committed to making a positive difference to each person. They were enthusiastic and believed passionately in the ethos of the service.
"People were extremely well-cared for, relaxed and comfortable. Staff knew the people they were supporting very well and care was provided with exceptional patience and kindness. The service went to great lengths to ensure people's privacy and dignity were always respected."
Maureen Hall, Housing and Care Manager at Dovecote Meadow said: "The team are absolutely delighted that all of their hard work has been formally recognised by the CQC - and I am incredibly proud of them too!
"They are always willing to go beyond expectations when it comes to providing the care and support that our residents benefit from on a daily basis. This rating has not only put Dovecote Meadow on the map, but is also a boost for the whole of Sunderland."
Kris Peach, Director of Extra Care at Housing 21 said: "I am delighted to see Dovecote Meadow achieve 'Outstanding' in an inspection report. To now have four 'Outstanding' ratings across Extra Care is a massive achievement and a result of a lot of hard work throughout recent months and years. This puts Maureen, the Housing and Care Manager, and the whole team into the very top tier of registered care services, not only in Housing 21, but across the country! The whole organisation is incredibly proud of the team at Dovecote Meadow.
"This rating means that people living in Dovecote Meadow have had, and can continue to expect to receive an outstanding care service. The CQC report illustrates that the whole team does an incredible job of helping older people to live independently in a community setting, with the added benefit of personalised care and support."