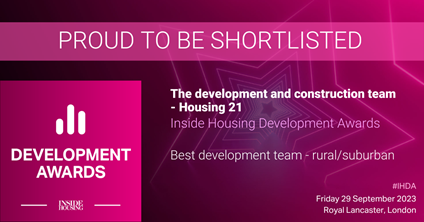 Housing 21 is delighted to announce they have been shortlisted as finalists in the Inside Housing Development Awards 2023 for Best development team – rural /suburban.  
The award submission focused on the key achievements of the Housing 21 development and construction team including the delivery of over 500 new homes in the last 12 months, the introduction of higher energy standards and dementia-friendly designs. 
These achievements have helped deliver growth, drive innovation, and support Housing 21's objective to achieve net zero by 2030, ahead of the government's target of 2050. 
Tony Tench, Deputy Chief Executive at Housing 21, said: "We are absolutely delighted to have been shortlisted for the Inside Housing Awards 2023.  
This recognition is a testament to the hard work and dedication of the entire development and construction team, who work tirelessly to ensure that older people of modest means have access to high quality housing and care services.  
"As a prominent developer of older people's housing, the team have sought to improve designs based on the input from residents and to adopt modern methods of construction principles to deliver energy efficient and comfortable properties." 
The winners will be announced at a ceremony on Friday 29 September in London. The full shortlist of finalists is on the Inside Housing website: Inside Housing Development Awards - Shortlist - Inside Housing Development Awards 2023 shortlist (ihda.co.uk)