Housing 21 shortlisted in three categories for national development awards
Housing 21 has been shortlisted for a national industry award celebrating the UK's best housing developers. The leading not-for-profit provider of Retirement Housing and Extra Care services has made the Inside Housing Development Awards shortlist in three categories: Best older people's housing development (50+ homes), Best approach to modular construction and Best development team (small). The awards ceremony will take place on Wednesday 27 November 2019.
Thomas Fields, an Extra Care Living development in Buxton, is on the shortlist for the 'Best older people's housing development (50+ homes)' category. The £9.1m scheme has been designed with both Extra Care and dementia residential care facilities in mind. The scheme was constructed in traditional style in the rural High Peak area, where access to local care facilities, and particularly those that promote independence, was limited. There are 53 two bedroom Extra Care apartments and a 20 place dementia-specialist residential care home on-site, operated by Derbyshire County Council. As a result of this, couples have been able to continue living together due to the care offering and on-site facilities, allowing individual needs to be met.
Thomas Fields resident, Dorothy said: "I am very happy that my husband and I have moved to Thomas Fields. Previously we were living apart because we had different care needs and I used to take taxis from my house to visit him in a care home. Now we are both living under the same roof, so I can visit him anytime and it is much easier when the family come to visit us both together. I love my apartment and my husband is really happy too."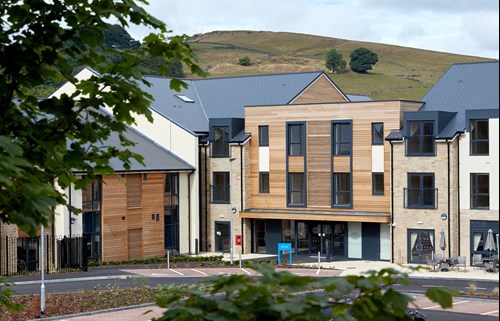 Ward Court, one of Housing 21's Retirement Living courts in West Yorkshire, has been shortlisted for the 'Best approach to modular construction' category. In June 2019, Henry Riley LLP and M-AR supported Housing 21 with one of the first off-site manufacture retirement housing projects in the UK, consisting of 5 one bedroom bungalows. The project was a response to the demand for retirement properties in Brighouse as the Local Authority, Calderdale Council, had a healthy waiting list for older people of modest means awaiting age-appropriate properties to rent.
Lesley, a resident living in one of the new bungalows said: "To me, living here has been life-saving in every way. I feel happier and the ease and cleanliness of this scheme is just great. I have the opportunity to make new friends and keep myself busy socialising with court activities. I am very happy living here. I absolutely love it."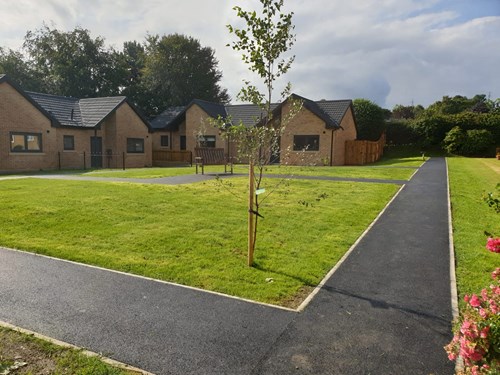 Housing 21's Property Development Team has been shortlisted for the industry's 'Best development team (small)' award. The team of 29 have plans to provide 2,100 new Extra Care properties, and 210 Retirement Housing properties, by 2022. Thereafter, they are committed to developing 1,000 new properties per year.
The team were successful in last year's Inside Housing Development Awards 2018 in the Best Partnership category. This was for their work with Doncaster Council on securing land for a new Extra Care development, Casson Court. The land holds a historic monument, the Peel Hill Motte, which is the remains of a sixteenth century motte and bailey castle.
Housing 21 recently undertook a research project, where key stakeholders provided feedback on the organisation. One of the key take-aways from the project was how the Property Development Team builds and maintains positive working relationships with a number of contractors, which in turn helps the organisation to meet its targets.
Siobhan Moore, Director of Development at Housing 21, said: "We are delighted to have been shortlisted in three categories this year. This achievement recognises the huge strides we have made towards meeting our goals. Over the last year, we have grown the Property Development team to ensure that we are well placed to meet our ambitious growth plans."