A flexible working scheme and a nine-day-fortnight working pattern are just some of the reasons why Housing 21 has been awarded the Employee Wellbeing Award at the Leadership Awards 2023.
The awards hosted by The Institute of Leadership took place on Friday 17 November at the Hilton in London and recognised great leaders and trailblazers who are shaping the future across different sectors.  
The Wellbeing Award celebrates organisations that actively promote employee health and wellbeing and have developed an initiative which is integrated into the organisation's culture.
As part of the award submission, the leading national provider of Extra Care and Retirement Living for older people of modest means demonstrated a commitment to employee health and wellbeing through schemes.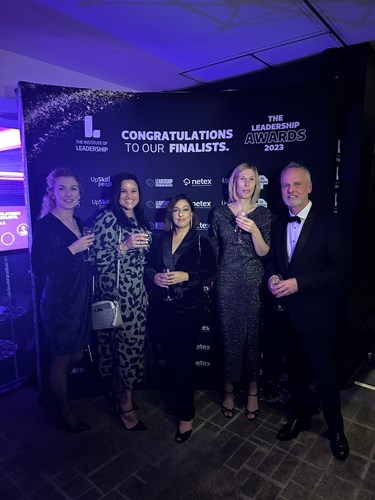 Pictured (left to right): Anna Cisek, People Services Advisor at Housing 21; Shantelle Driscoll, Regional Extra Care Manager at Housing 21; Shaista Ali, Senior Employment Counsel at Housing 21; Nicola Morris, Employee Wellbeing Lead at Housing 21 and Anthony Kennedy, Leadership and Development Manager at Housing 21.
Kerry Grant-Rush, Head of Learning and Organisational Development at Housing 21 said: "We are delighted to have won the Employee Wellbeing Award. Last year, we introduced a nine-day fortnight as our default offer for the majority of full-time employees, where they can choose to spread their working hours over nine days instead of ten, giving them the option to enjoy a three-day weekend every other week. We understand that flexible working can help our people achieve a work-life balance and improve their wellbeing.
"This award demonstrates Housing 21's commitment to creating a working environment where our employees can thrive both professionally and personally."
Housing 21 also has other initiatives to support its employees' health and wellbeing, such as the Employee Assistance Programme which offers free and confidential support from trained professionals for work or personal matters and a funded Health Cash Plan providing access to services and support with costs towards everyday health, such as dental check-ups, eye tests and physiotherapy. ​​