Celebrations to mark the official opening of Patent Walk and Patent House, the largest net zero scheme of its kind in England, were held in Doncaster this week.
Supported by funding from City of Doncaster Council and Homes England, this is the third off-site manufactured modular project delivered for Housing 21 by offsite developer M-AR with Henry Riley acting as Employer's Agent and Modular Consultant – but the first to meet Housing 21's updated low carbon specification.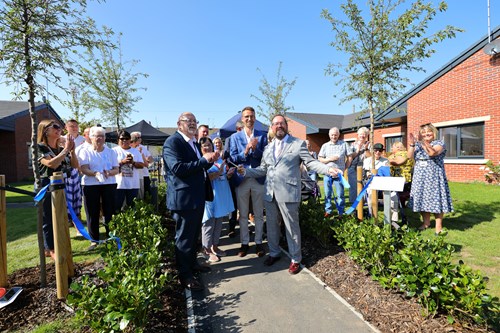 Net zero requirements were designed and built in from the start of the project, laying the foundations for the offsite development to meet tomorrow's standards today.
The Retirement Living scheme marks a significant milestone for Housing 21 as it strives to provide affordable homes for older people that meet residents' needs now and in the future, whilst also considering the impact on the planet.
To mark the achievement Stephen Hughes, Chair of Housing 21's Board, planted a tree and unveiled a plaque at the entrance to the scheme at an event attended by residents, colleagues and partners who worked on the project.
Residents have started to move into the net zero scheme, which comprises eight bungalows and a three-story apartment block with six one-bedroom and six two-bedroom apartments.
All 20 homes have been allocated for social rent and incorporate high-performing, efficient technologies throughout. This includes air source heat pump water heating, high insulation values and airtightness, as well as mechanical ventilation with heat recovery for well-controlled ventilation.
To further maximise efficiency and reduce running costs, as part of the project photovoltaic (PV) panels were fitted at Patent Walk and a neighbouring Housing 21 scheme - Minden Court - to increase energy production for the wider scheme.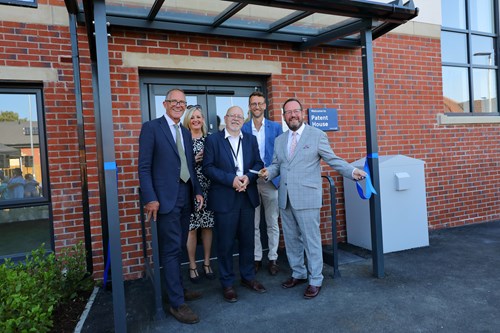 Pictured left to right: Bruce More, Chief Executive at Housing 21, Pam Mastrantonio, Executive Director for Retirement Living, Deputy Mayor and Cabinet Member for Housing and Business at City of Doncaster Council, Cllr Glyn Jones, Executive Director at Henry Riley, Dan Macpherson, Stephen Hughes, Chair at Housing 21.
Stephen Hughes, Chair at Housing 21, said: "I'm incredibly proud of what this scheme symbolises for the future of affordable housing. As an organisation, we always pride ourselves on doing the right thing for residents, but Patent Walk and Patent House demonstrate Housing 21's commitment to tackling the housing crisis whilst keeping the environment in mind. 
"I would like to thank everyone who has been involved with delivering this much-needed and pioneering scheme and I'm confident that Housing 21 will continue to lead the way by delivering high-quality, energy-efficient and affordable homes for older people." 
Deputy Mayor and Cabinet Member for Housing and Business at City of Doncaster Council, Cllr Glyn Jones, said: "I am delighted that as a council we have been able to assist with this incredible project, which will support many of our residents in the next chapter of their lives.  
"Affordable and energy efficient housing for all groups in Doncaster is a huge priority and focus for the council and our partners and we are delighted in this latest step towards this."
Despite only recently completing, Patent Walk and Patent House has already been recognised for its impressive achievement. The scheme has been shortlisted in the building performance pioneer category of the year at the Offsite Construction Awards – with the winner expected to be announced later this month.