Leading national, not-for-profit provider of retirement housing, Housing & Care 21, has embarked on a multimillion pound long term partnership with the Securus Group, to deliver an innovative multi-services maintenance and testing contract. Together with a fire alarm rezoning strategy, the system delivers improved resident safety and value for money through partnership working and will be rolled out across Housing & Care 21's retirement housing portfolio.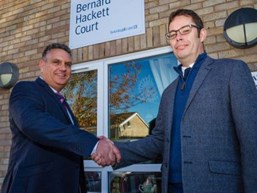 Combining the maintenance of analogue emergency call systems, fire alarm and emergency lighting, automatic opening vents and electrical appliance testing, the system will provide enhanced levels of compliance and resident safety as well as long term contract security and reduced site service visits.
Tim David, Property Services Director at Housing & Care 21 said: "I am very excited that Housing & Care 21 and Securus have built this partnership which, most importantly, enhances the safety of our residents in an innovative and collaborative way, whilst still achieving commercial benefits."
Dedicated engineers, contract managers and administrators will provide a high quality fast response service to residents. Working in partnership with Securus, each site across Housing & Care 21's large and diverse portfolio, is surveyed and assessed to ensure the correct technical solution is jointly identified and agreed.
One such site is Bernard Hackett Court in Ross-on-Wye, Herefordshire. The dispersed site configuration at Bernard Hackett Court presented some challenges, but Securus and Housing & Care 21 worked collaboratively to source an appropriate, aesthetic and cost effective solution that was best suited to the site. Innovative radio linked detection was used within roof voids and flats to negate the need to hard wire interconnected devices to provide a standards compliant solution, minimal disruption to residents' homes and savings in the region of £35,000.
Elaine Summers, Court Manager at Bernard Hackett Court said: "The feedback from the residents has been positive, they were impressed with the contractors and how the properties were left very clean and tidy. The new system has been a great benefit to my residents as they can silence their own alarms, no more evacuations for burnt toast! In addition there have been no calls to the fire brigade in the six months since the system has been installed when previously we had at least six callouts a year. It really has made a big difference to me and my residents, thank you Securus."