"Friendship is the golden thread that ties the heart of all the world."
This abridged quote, from writer John Evelyn, helps to sum up how friendship brings us all together, no matter your age or background. Today marks International Day of Friendship, celebrating the shared spirit of human solidarity. The UN General Assembly introduced this awareness day in 2011 with the idea that 'friendship between peoples, countries, cultures and individuals can inspire peace efforts and build bridges between communities'.
The last few months have seen us all face new challenges as Covid-19 has disrupted our 'normal' way of life, however, facing these challenges with friends (albeit over a video call or social distanced) has helped many of us to stay upbeat and get through it together.
Today we're shining a light on some of the wonderful friendships across our schemes.
Travel companions - Mavis and David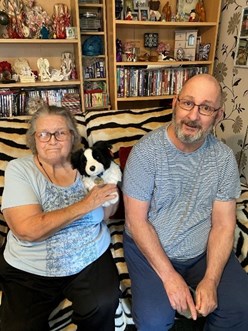 Mavis and David became firm friends in 2011 after meeting at Lynam Court. Despite their age difference (Mavis is 83, and David is 65), they have a lot in common and share a similar sense of humour. They both love to travel and it was their passion for Scotland that brought them together to become great friends. Mavis used to go on coach trips to Scotland, and David used to travel by car with his father-in-law. When David found out Mavis was struggling with the coach he invited her to join him and his father-in-law on their next holiday.
They had such fantastic fun they decided to continue to go away together and have spent many summers travelling extensively around Scotland. David spent last Christmas with Mavis and 15 members of her family, and gets on so well with her children that they call him their 'brother from another mother'! He says what makes their friendship so great is "our shared interests, always having fun together and valuing each other as people".
They both enjoy getting as much out of life as they can, and spend most of their time together laughing. They also support each other to remain independent - David calls Mavis every morning to check she is okay and they see each other every day. Mavis says the key to long lasting friendships is "compromise, and always being honest with each other". They enjoy going on daytrips to the coast, garden centres and going out for meals together.
Finding independence - Barrie and Jane
Lea Springs residents, Barrie and Jane, have been the best of friends since moving into the scheme several years ago. 
Barrie was born with cerebral palsy.  He lived in the family home with his brothers until the age of 12, when he moved into a Scope residential care home. After living there for 47 years, the home was facing closure, and it was at that point that Barrie's social worker contacted Lea Springs. Barrie fell in love with the place when he visited, and moved into the scheme in 2016.  He thrived in his new environment and enjoyed having his own home and personal space, but Barrie's new life really opened up when Jane moved into Lea Springs in 2017. 
They soon become firm friends, going out on regular lunch dates and spending time together. Jane has had a huge impact on Barrie's physical and mental health.  At the age of 62, with the help of Jane, Barrie learned how to cook. His care hours were reduced and his tea call was discontinued.  He is very happy that he has found the independence he never thought he would have.
Two years ago, Lea Springs presented a pantomime of Cinderella, with Barrie and Jane playing the ugly sisters. They made up the script as they went along and were the stars of the show!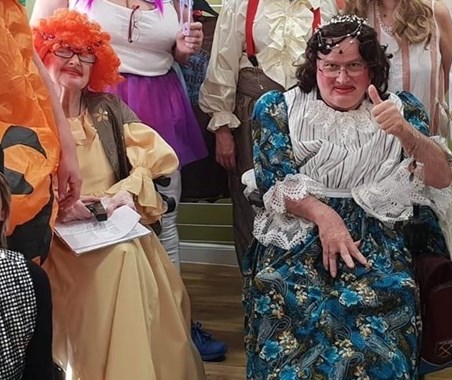 Furry Friends
We see many furry friends in our pet-friendly schemes and it is well known that being around animals can help to boost your wellbeing. Due to their loyalty and companionship, it is little wonder that dogs are often called 'man's best friend'. Gloucester Court resident, Sheila, describes how her dog, Louise, has been company during difficult times.
"I lost my husband 17 months ago and my Louise has been my lifeline and companion. She has kept me alive and focused, even though she is mourning her 'Boss' as am I. She is a miniature Bedlington terrier/first cross whippet and will be 12 in December.
"Kam, the Court Manager, could not have been kinder or more sympathetic and I have made friends here very quickly - we have an excellent community spirit".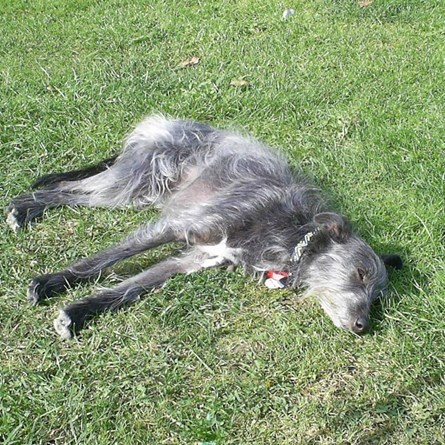 Friends at Falcon Court
Roy, Dougie and Andrew are residents at Falcon Court and enjoy getting together and sitting outside the front of the scheme to have "great banter and a good laugh", says Roy, 74. The gentlemen have formed great friendships over the last few years and are often heard laughing and joking with each other. Dougie, 94, says he enjoys the company and the chat - it "makes the days happier when you live on your own - I know I can call on them to help if needed".
Roy says moving into Falcon Court was the best move he has made. "Andrew is always willing to help me no matter what time of day or night". Andrew, 66, moved into the scheme with his mother over seven years ago. When she went into a nursing home, the friendships he had developed helped him to cope, and have given him strength after she sadly passed away recently.
The gentlemen are often joined by fellow resident, Janice, 76. She says "I join the gentlemen outside the front of building when weather is nice – it's lovely to join in - they are so friendly, and the best thing is we love to laugh".