For International Women's Day, we spoke to Amy Coleman, IT Project Analyst at Housing 21, about her career journey as a woman in IT, and the biases she has overcome.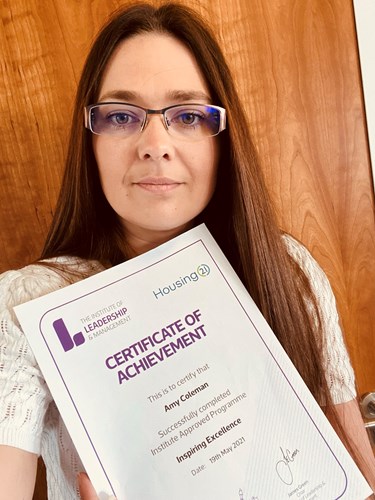 Please can you give a brief overview of your role/department, and tell us what excites you about it?
Recently moved into my third role within the organisation continuing my career in IT. Starting out as an analyst on the Service Desk, moving up to Service Desk Team Leader and now working as an IT Project Analyst. Each job quite different from the other and all interesting, from helping others when technology does not do what we want, to leading the team in improving the services we deliver and now looking at introducing innovative technology through the up-and-coming projects.
Technology is growing and getting more advanced by the second and this is what excites me! No two days are the same and there is also something new to learn. I enjoy learning new skills, expanding my knowledge, and sharing this with colleagues, both to ensure we use it effectively as an organisation and to help when it does not work.

Why is IT a great career choice?
Technology is something we use all the time whether at home, work or even a restaurant or a shop. Through my seven ½ years in this department, I have learnt not only how to use it daily for a more efficient way of working, but how to use it safely and securely. As technology advances so do my skills and I can honestly say there has not been a day go by where I have not learnt something new.
I often get asked a lot of questions because of my roles here and some start "Can I ask you a stupid question…" No question is ever stupid, or silly or easy for someone to answer, I enjoy sharing my knowledge and using what I know to help people. IT is an ever-changing department and always evolving to improve the way we work as an organisation and that is great to be a part of.

The IT sector is often considered to be male dominated. What is your view on this? Have things changed during your career?
IT is still male dominant, since joining the organisation there has only ever been 3 or 4 women in a department of 25-30. Even now there are only six out of the twenty-five employees within the department that are women. Over the past few years, I have recruited a number of people into the department and there have only every four women applicants. Looking at the department there is now only one woman in a management role.
It would be nice to see more females within the department, lets face it there is only so many conversations about Star Wars, Star Trek and Football I can take… The adverts for the IT roles could show more diversity, we currently use a very stereotypical image compared to other departments.
As a woman, have you experienced any bias during your career, and how have you dealt with it?

Bias during my career… unfortunately yes there has been some and I have learnt over the years how to deal with it. I have had comments like "Can I speak to a man please because you don't know what you're talking about!" "It's okay Amy will clean and tidy the storeroom", "You look girly today, who are you trying to impress?" At first, I cried and felt I wanted to quit, I should have stuck to my previous job as a carer! But I looked around the organisation and spoke to a few colleagues and learnt that if I listened to the comments and opinions of others, I would start to believe them and I would never be happy, both in my work life and personal life. Despite what people think I am shy, scared of failure and worry too much about what others think of me, OR at least that is what I was! Since talking to others and I suppose becoming a mother, I have learnt to be brave and challenge my behaviour as well as other peoples, it is okay to fail because failure is just another lesson, I know dust my self off and try again, if anything it makes me work harder and more determined. I still hear the comments more recently, during the restructure "you may as well take the redundancy and have another baby" but I no longer listen to them and let them affect the way I continue with my career.
What have been your biggest career challenges?
There have been multiple challenges during my career, I think my biggest was when I was successful in my application to lead the Service Desk Team. I had returned from maternity leave only a month when I applied for this role, not only had I been out of touch with the team, but I'd worked alongside them for 3 years prior to this, so it was hard to gain the respect as their line manager. I am a woman and the youngest in the team, I would get ignored, dismissed, or bypassed to speak the next manager. For a while I felt as though I did not deserve to be in that role, but I stuck to it and started developing my personal and leadership skills, completing multiple courses/exams, and using them to fulfil my role, proving I was the right person for the job.
As a woman we are thought of as soft, easy to pushover and only good at the emotional element of the role, or the fluffy stuff as they call it. Gender should not determine the respect anyone gets, duties within roles to differ or someone is less likely to be more knowledgeable. Gender does not prevent you from achieving the best from you career.
What is your biggest success / what are you most proud of with regards to your career?
Not giving up or walking away! If I had given up and walked away when it got tough, I would not be where I am today, still doing a job that I love, still learning new things day in day out, and still collaborating with some great people. There are two moments that really stand out for me as being my proudest and those are, applying for the Service Desk Team Leader role and saying no to taking a pay cut and a lower job to start again in a different role. I was scared when I applied for both jobs bit, I had to face my fears and reach for the stars! Being scared does not mean I can't do it, or I'm not qualified.
I am also proud that I proved I could do the job and I had the balls to stick to it!
What advice would you give to women at the start of their careers?
• Don't let gender stop you from achieving your full potential!
• Be yourself
• Do not listen to the negativity or bias comments
• Never be afraid to ask for help or development opportunities.
• Be strong