'Enriching the lives of our residents' is our focus for International Youth Day as we explore how younger people engage with those living in our Retirement Housing and Extra Care Living schemes.
The theme this year is 'Youth engagement for global action' which aims to show how 'engagement of young people at the local, national and global levels is enriching national and multilateral institutions and processes'. We certainly see the mutual benefit of intergenerational activities in our schemes, from residents helping to develop the soft skills of medical students, to children brightening our residents' and employees' day.
Success for Keele students at Lisbon Place
Lisbon Place, in Newcastle-under-Lyme, provides placement opportunities for student doctors at Keele University. Residents love talking to the students about their lives and it also gives them a chance to discuss any aches and pains. The students visit the scheme initially in their first year to improve their communication skills and empathy.
In their final year, students produce a project which is beneficial to the residents and the wider community - last year they produced a falls leaflet with vital information to keep people safe. This was adopted by the NHS and disseminated into the wider community in healthcare settings, making this cohort of doctors the highest achieving project group and winning recommendations for both Lisbon Place and the students involved.
Community spirit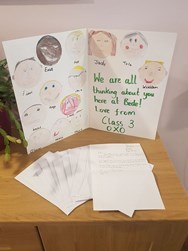 Throughout the Covid-19 pandemic we have been amazed at how children and young people across the country have shown their support for our care staff, and have kept our residents in high spirits.
At Festing Court, in Darlington, tokens of appreciation included packed lunches delivered by a local school. Laura Brown, Court Manager, said: "The lunches came with a letter for every resident and a picture of a rainbow to put in their windows – it was very sweet and put a smile on their faces."
Marigold Court in Gateshead also received some lovely gestures. "We received a card and letters from the children at Bede School. The card was full of self-portraits and the letters told residents a little about their likes and dislikes" said Jill Hood, Assistant Housing Manager. "Residents were over the moon and can't wait until the children can start visiting again".