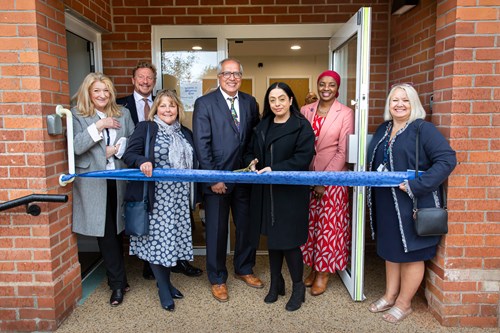 Pictured: Housing 21 representatives with Councillor Arooj Shah, Leader of Oldham Council
The community in Oldham celebrated a significant milestone with the official opening of the Brownedge Road Community Room. 
The event celebrated the collaborative efforts of Housing 21, Oldham Council and Groundwork Greater Manchester in transforming a semi-detached bungalow into a vibrant hub for community engagement. 
The Brownedge Road Community Room represents a remarkable achievement in community revitalisation. The bungalow has undergone a comprehensive refurbishment to meet exceptionally high standards, creating a welcoming and inclusive space for residents to come together and enjoy various activities and social events. 
Laura Francis, Partnership Manager at Housing 21 said: "We are especially proud of this project and thank all the many partners who have contributed to the renovation and refurbishment.  
"This project has revitalised residents' interest in attending events and many new initiatives are underway which help keep residents connected and maintain an active lifestyle". 
One of the standout features of the project, is the innovative rain gardens located at the front and back of the bungalow. The gardens enhance the aesthetics of the surroundings and encourage residents of all abilities to get involved with gardening opportunities. Accessibility has been a key focus in the development of these gardens, ensuring that everyone in the community can participate and enjoy the benefits of gardening.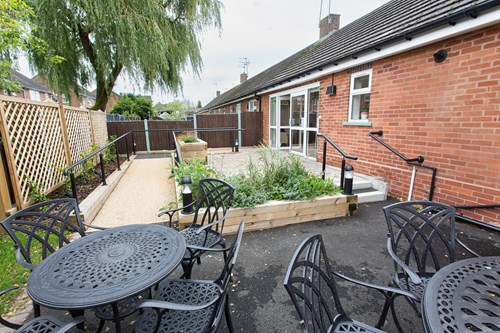 Pictured: the gardens after the refurbishment 
Cllr Elaine Taylor, Cabinet Member for Housing and Licensing, said: "What a wonderful place for people to get together and enjoy themselves.  
"We're delighted to have worked with Housing 21 and Groundwork to get the community room open – it will be an asset to Oldham for years to come." 
The transformation of the Brownedge Road Community Room has breathed new life into the community, reigniting residents' interest in attending events and participating in various initiatives. The project has fostered a sense of connection among residents, promoting an active and engaged lifestyle. 
Representatives from Oldham Council, Housing 21, Groundwork Greater Manchester, and dedicated local residents have worked tirelessly to bring this outstanding project to fruition. 
The ribbon cutting ceremony celebrated the success of this collaborative effort, which serves as a shining example of what can be achieved when a community comes together with a shared vision.