Clifford's Mews, an Extra Care scheme managed by Housing 21 has gifted their new show apartment furniture to the local branch of charity YMCA.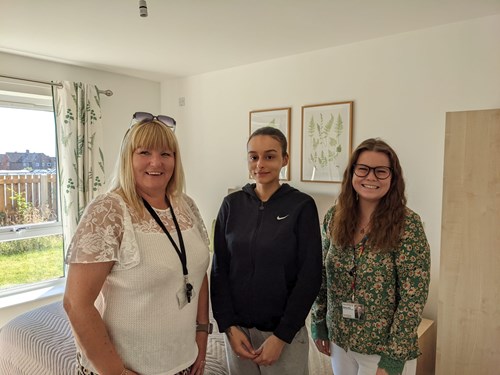 Pictured: Joanne Mcnally, Supported Housing Development Manager at YMCA, Stacey Hillis, Housing & Care Manager at Housing 21 with Ebony from YMCA 
The £10 million scheme which opened in May, offers over 55s the chance to live independently with access to on-site care and support. Clifford's Mews' last remaining apartment, which was used as a show room has now been rented out and the organisation wanted to gift the furniture to a worthy local cause. 
YMCA in North Tyneside was chosen to receive the donation of living room, dining room and bedroom furniture, and the items were collected this week by Joanne McNally, Supported Housing Development Manager who said "Ebony has been supported by the YMCA North Tyneside for a while and is now ready for some independence. She has worked really hard to secure her own place, but sourcing furniture has been difficult. We are all really grateful to Housing 21 for this donation and know that it will make a huge difference to Ebony settling into her new accommodation".

Clifford's Mews' Housing & Care Manager Stacey Hillis commented "We at Housing 21 wanted to help make a difference by donating the furniture to the YMCA where it will have a new lease of life in accommodation designed to support young people in the area". 
Housing 21 is a not for profit, leading national provider of Retirement Housing and Extra Care for older people of modest means.